Put A Little Love On Your Head
Cut to the Chase
The Leatt DBX 3.0 is a stylish helmet packed with industry leading features that would normally cost an extra $100.00 or more in other brands. What you get with the Leatt DBX 3.0 is a feeling of quality, comfort and the knowledge it has been rigorously tested to the nth degree in Leatt test labs, creating a confidence inspiring helmet that provides an increased chance of walking away without lasting damage to your most vital organ.
Pros
Leading safety tech at a good price
Excellent airflow
Lightweight and comfortable
"Fidlock" buckle system
Fresh styling
Cons
Side straps took some adjusting
LEATT DBX 3.0 All Mountain Helmet -​ Review
Crashing is the last thing we want to think about when riding but when buying a helmet, it should probably be the first thing we think about. That's where LEATT comes in with their DBX 3.0 helmet with "Turbine 360" technology.
Ever heard of MIPS technology? What about Turbine 360? What is it and what does it mean for safety in MTB helmets? All helmets that hit Aussie shores need to meet high safety standards to be able to be sold, so surely that means they all offer the same amount of protection, right? So if an AUS-certified helmet can be purchased for eg. $100.00 why pay more? Won't they all protect your head when you smack it into something? Yes, kind of, but not really, is the answer.
With so many helmets on the market, it's hard to know where to start and what to look for. What do you look for in a helmet? Are you price-conscious or do you just want the safest and most confidence-inspiring piece of kit you can find no matter the cost? The answer for the majority of riders would probably be somewhere in between.
The LEATT DBX 3.0 all-mountain helmet appears to offer some of the best tech features available whilst still being fairly priced.
Who Are LEATT?
It all began when Dr. Leatt invented the LEATT neck brace after witnessing the death of a fellow motorcycle rider in 2001. The first LEATT brace hit the market in 2004, and in 2006 won "Racer X magazine's" Product of the Year. The LEATT neck brace went on to win multiple awards over the next few years and then in 2010 an MTB-specific model was created and ridden to victory by none other than Sam Hill at the world champs! This is where LEATT started to move into the MTB world and their award-winning technology started to filter into other areas.
Although originally known for their neck braces, LEATT now makes helmets, body armour, braces, guards, hydration systems, and apparel. It's a really interesting story that you can check out here – https://www.leatt.com/company/
It seemed like perfect timing, but as I was sitting down to write this review, Dr. LEATT was interviewed on the Downtime podcast which if you haven't got into podcasts yet, I highly recommend doing this. You can check out some of the LEATT story and tech talk here: http://www.downtimepodcast.com/leatt/ also available on Apple and Spotify apps.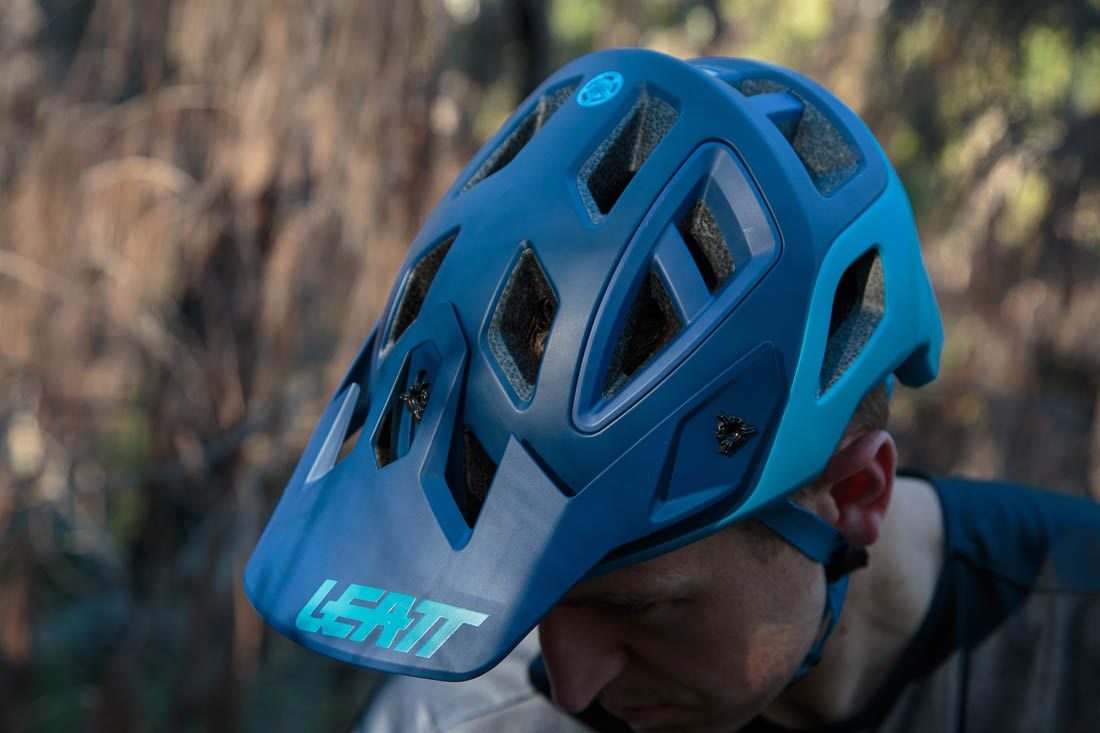 Above: The Leatt DBX 3.0 offers fresh styling and high-end safety technology at a reasonable price. Photo: ©Sean Murray
First Impressions
The DBX 3.0 has an angular, almost industrial style making it unique but not over the top. It's lightweight and with 18 large vents, will be great on warmer days on the bike. It has a different strap closure system called "Fidlock", which is a magnetic buckle that simply clicks together on contact (LEATT isn't the only brand to use this feature).
I was a little skeptical on this feature at first and concerned that it wouldn't be secure enough, but after a few goes, it appears it's not witchcraft and the science behind it may actually stack up. The retention system at the back feels like it has a solid construction with a nicely designed rubber dial that tightens it all up. Most helmets on the market have this kind of tightening system, this one seems to have an ease of use feel straight out of the box, without having to concentrate too much on finger position or grip.
On the head, it's comfortable, feels light, and fits snugly. When I moved my head around it didn't slide or wobble at all and I'd say this is mainly the retention system but also the little blue turbines which I'll get to further on.
Features
So, what is this Turbine 360 stuff?
It seems like most helmet brands are looking to MIPS technology in helmets these days (Multi-Directional Impact Protection System) but not LEATT. They have developed their own technology to help protect you in the event of an impact and to take out some of the rotational forces that your head experiences if/when you take a dirt nap or hit that tree that came out of nowhere.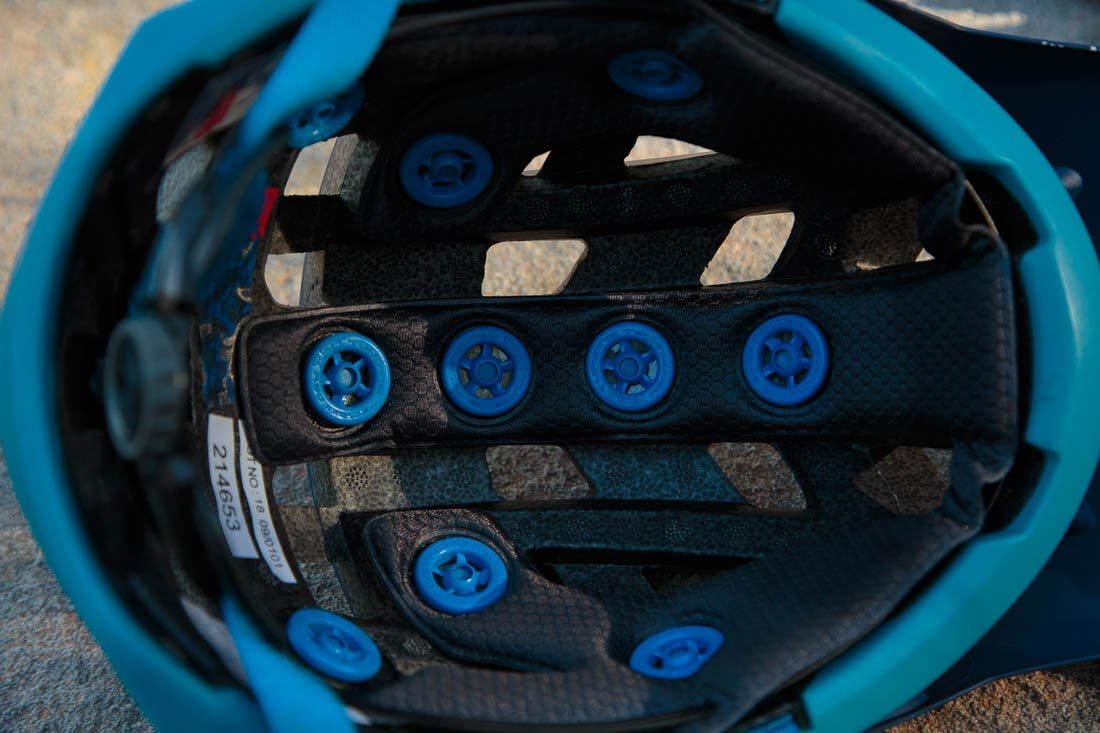 Above: The Leatt 360 technology, provides additional impact protection. Photo: ©Sean Murray
---
LEATT claims that their turbine 360 technology will reduce up to 30% of head impact at concussion level and up to 40% of rotational acceleration to the head and brain.
The turbines themselves are discs constructed from an energy-absorbing shape and material that will spin 360 degrees on impact. The aim of the game with this technology is energy absorption and although I thankfully didn't get to try out any real-life impact scenarios, the data checks out. One of the really cool things about all this data is that it's available on the LEATT website in the "LEATT Labs" section. All the test data for their protective gear is freely available to geek out on if that is your thing.
What is immediately evident with the turbines themselves is that they make for a comfortable and snug fit with no pressure points at all, and I'd definitely rather know that these are in my helmet in the case things do go bad.
On The Trails
Fit and Feel
The DBX 3.0 performed well on the test. I couldn't really fault the overall feel, fit, or quality of the product. My first impression of the retention system and turbines didn't change even after a few hours of use, and I experienced no pressure point soreness (even on my oddly shaped head).
The only slight negative I could find was the side straps. They seemed to twist a little as they went into the buckle below my ears but after a bit of adjustment with the buckles, I managed to get this to a point where I didn't notice it as much. This wasn't a deal-breaker in any way and most people probably wouldn't notice, but it's just not quite as good in this area as say the Tectal helmet from POC or the Ambush from Specialized.
Venting
The 18 large vents allowed for great airflow and this was evident even when standing still at the bottom of a run sharing the stoke of what just went down on the trail. Some helmets feel like my head is in a plastic bag but I never got this feeling from the DBX 3.0. This is a big design plus from my perspective.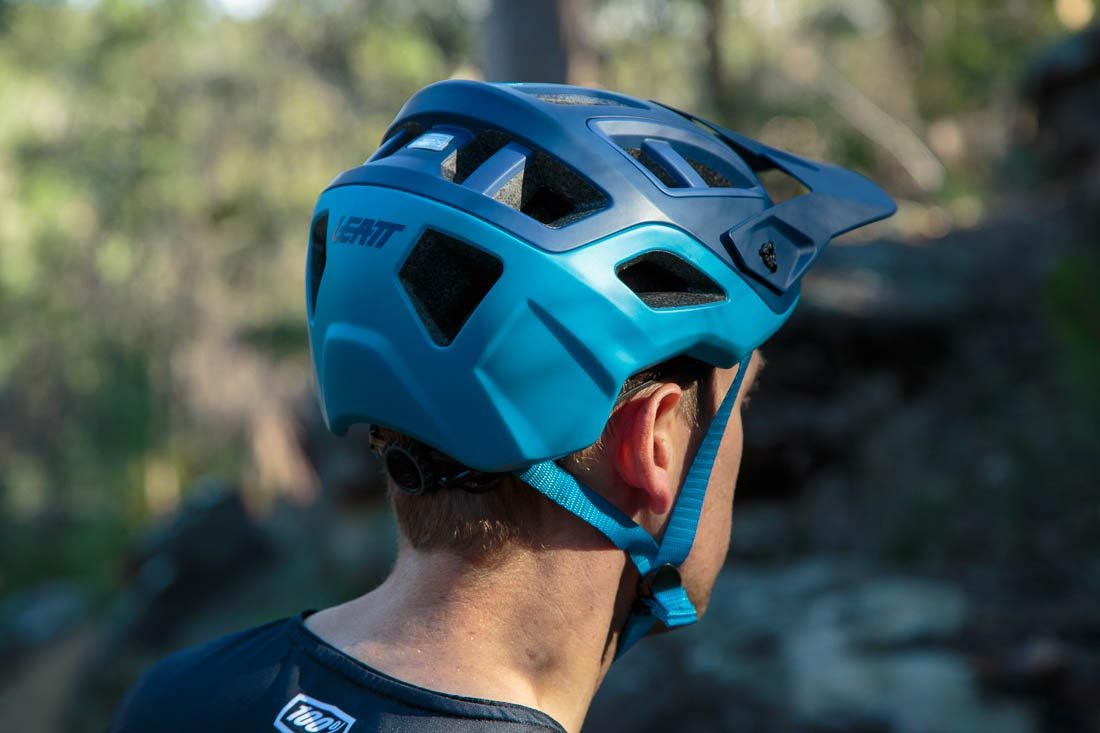 Above: The Leatt DBX 3.0 provides a massive amount of venting with 18 vents. Photo: ©Sean Murray
---
Fidlock
At first, I couldn't get my head around the "Fidlock" magnetic buckle and how a magnet would be sufficient to hold these 2 crucial straps together securely, but once again LEATT has done their homework and combined this great feature with all the other tech of the helmet. I must admit that it took me a few goes to get used to unbuckling it, but once I worked out the technique, I couldn't help but think, why don't all helmets use this type of buckle system?
All it consists of are 2 plastic pieces forming the buckle with a slot on one side and a magnetic piece on the other side that locks it in place. I tried to replicate what could happen if a strap got caught or the pressure that would be placed on the design on impact happened, but it never came undone. It goes to show, that sometimes the simplest designs can be one of the best features.
Visor
The visor has a large range of motion to suit all rider's preferences and in the highest position, it will fit a pair of goggles underneath it. For those of you that goggle up with a trail helmet, climbing back to the top isn't fun with your eyeballs sweating, so it's good to be able to stash your goggles in an easy location so you can just slide them back down onto your face.
The visor is kept in position with 3 dials that are easily adjusted with your fingers even with your gloves on. In the event of an impact, the visor also has a breakaway function to take away some of the rotational forces that may occur. Whilst rolling, the helmet never moved out of place or wobbled. It stayed in position and just allowed me to enjoy the ride and focus on the trail.
---
Specifications
Polymer Compound shell in three sizes
360° Turbine Technology

Reduces up to 30% of head impact at concussion level
Reduces up to 40% of rotational acceleration to head and brain

In-molded impact foam for superior energy absorption
Maximized ventilation with 18 vents
Optimized for riding and effective even at low speeds
Visor with breakaway function for rotational reduction in a crash
Fidlock magnetic closure system
Dri-Lex® moisture wicking, breathable, anti-odor and washable inner liner
Certified and tested: AS/NZS 2063:2008, EN1078, CPSC 1203
Weight: from 360g (0.79 lbs)
Sizing

#S (51-55cm – 20-21 5⁄8″)
#M (55-59cm – 21 5⁄8- 23 1⁄4″)
#L (59-63cm – 23 1⁄4 – 24 3⁄4″)
---
Conclusion
Packed with technical features that would cost $100.00 more in some other brands. The Leatt DBX 3.0 gives you a feeling of quality and comfort. Will it make you a faster or better rider?
Probably not, but it will give you confidence that you are wearing a great piece of kit, so if/when you do have an impact, you will have an increased chance of walking away without lasting damage to your most vital organ. I'm stoked that companies like LEATT are looking at better protection, with great styling, whilst being fairly priced. It only benefits us, the riders!
---
Price / Where to buy
Leatt DBX 3.o All Mountain Helmet: Prices range from $229.00 – $249.00
Can be purchased at MTB Direct and other good online retailers or ask at your local bike shop.
Australian distributor: Cassons
---