Feel The Joy with Joystick Components
Cut to the Chase
Joystick Bicycle Components are an exciting Canadian brand making world class and pro-level MTB components made by a team of passionate riders, engineers and racers from the MTB industry. With Loic Bruni using their components, there's got to be something said about that! If you're thinking about upgrading your cockpit anytime soon, then give Joystick Components a go, you won't be disappointed.
Pros
Exceptional quality and finish
Stand out style and design
Competitive price point
Fresh brand with integrity
Very cool branding!
Cons
Currently only offer a small range of products.
Joystick Bicycle Components – Review
Having the right cockpit set up can dramatically change the way your bike feels and handles, and can make or break the entire riding experience. With some slight changes to your bar, stem, grips, or saddle, you can change an unresponsive or awkward feeling bike into something much more suited to your riding preferences.
The Canadian Joystick Bicycle Components started as a collaboration between a small team of riders who wanted to showcase their passion for engineering, design, and the ideals of the team and the riding community.
The team is focused on creating bicycle components that showcase this passion, and by delivering quality, progressively-designed products, at accessible prices. With riders such as Loic Bruni winning world cup races with their components, this already says a lot about this Canadian brand.
---
Analog Carbon Handlebar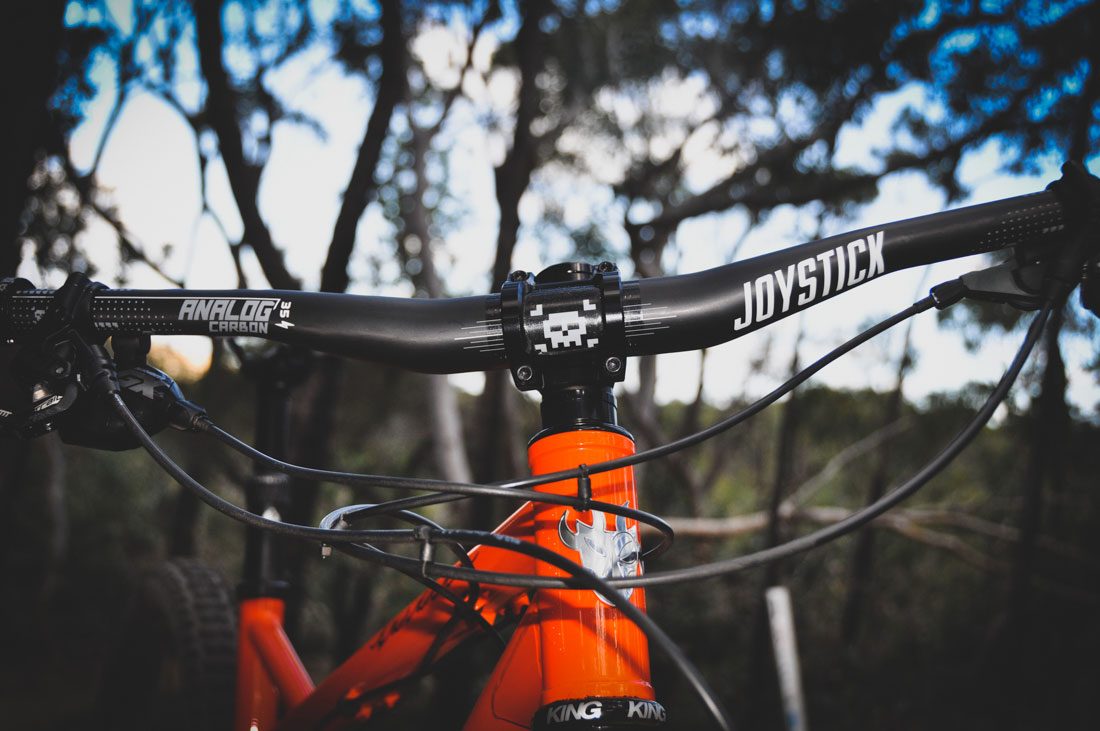 The Analog Carbon is the handlebar of choice of Ibis Enduro Team as well team riders like Josh Lewis and James Doerfling.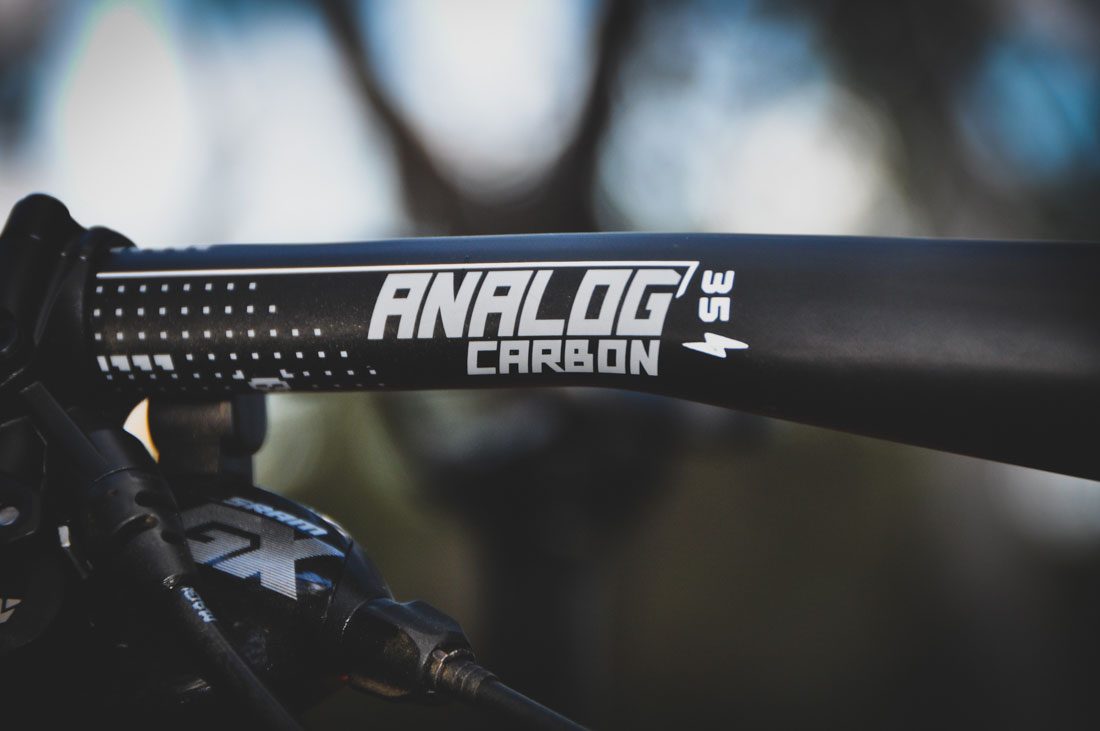 The Analog Carbon is a lightweight bar, at 212g (35mm) it's one of the lightest bars we've used. But don't let that be a concern, because this bar has been tested on world DH race circuits and even Rampage, so in terms of durability, it's up there as one of the strongest bars on the market.
With a lab-tested strength-to-weight ratio, the Analog Carbon delivers excellent trail feedback and responsiveness. At an 800mm width, it sits firmly in the "wide" bar category aimed at DH, Enduro, and AM riders. With the bold and edgy graphics, the Analog bar looks the business on any bike.
Analog Carbon Handlebar Specifications:
---
Joystick Binary Stem
The Binary Stem is a fully CNC-machined stem with an incredibly precise bar interface that's light enough for racing purposes and strong enough for those gnarly gravity rides. Although light, the Binary stem maintains the strength and stiffness necessary to deliver consistent performance across all riding situations.
Available in 35mm and 50mm lengths, the Binary stem uses a carbon and alloy-friendly bar/stem interface with an increased clamping surface which creates a stronger and more precise stem.
Joystick Binary Stem Specifications:
---
Joystick Binary Cr-Mo Railsed Saddle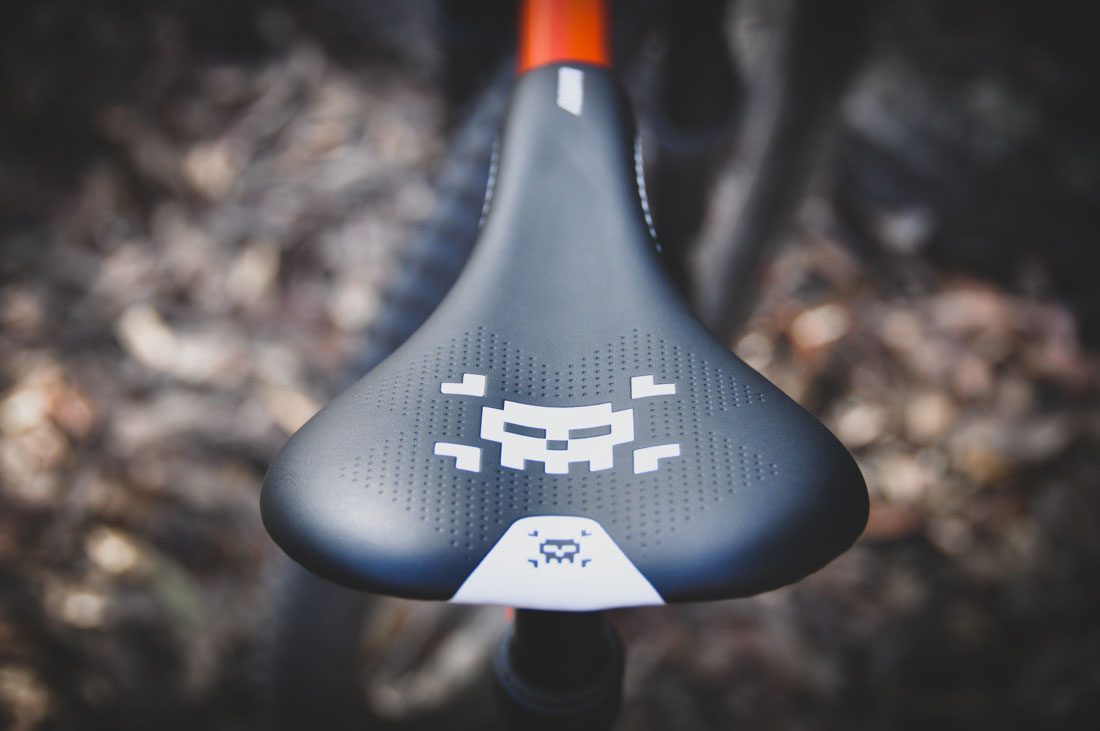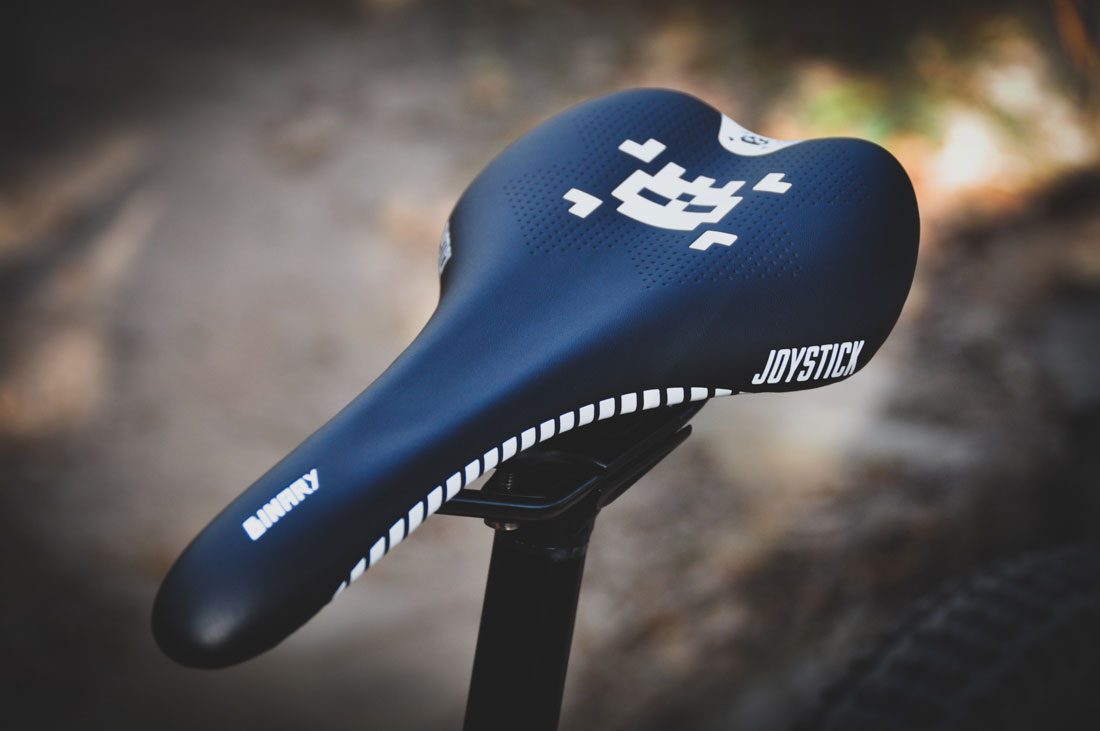 The Binary saddle is a compact, lightweight saddle with a pressure relief section cut into the base that provides extra comfort by alleviating pressure in the sensitive soft tissue area.
Designed for the rigours of Enduro racing, the Binary saddle uses a minimalistic approach but retains all the necessary key features with a compact, low profile nose, and Real Rider Geometry, the Binary is a pure race-ready saddle.
Binary Saddle Specifications:
---
X-Logo Lock On Grips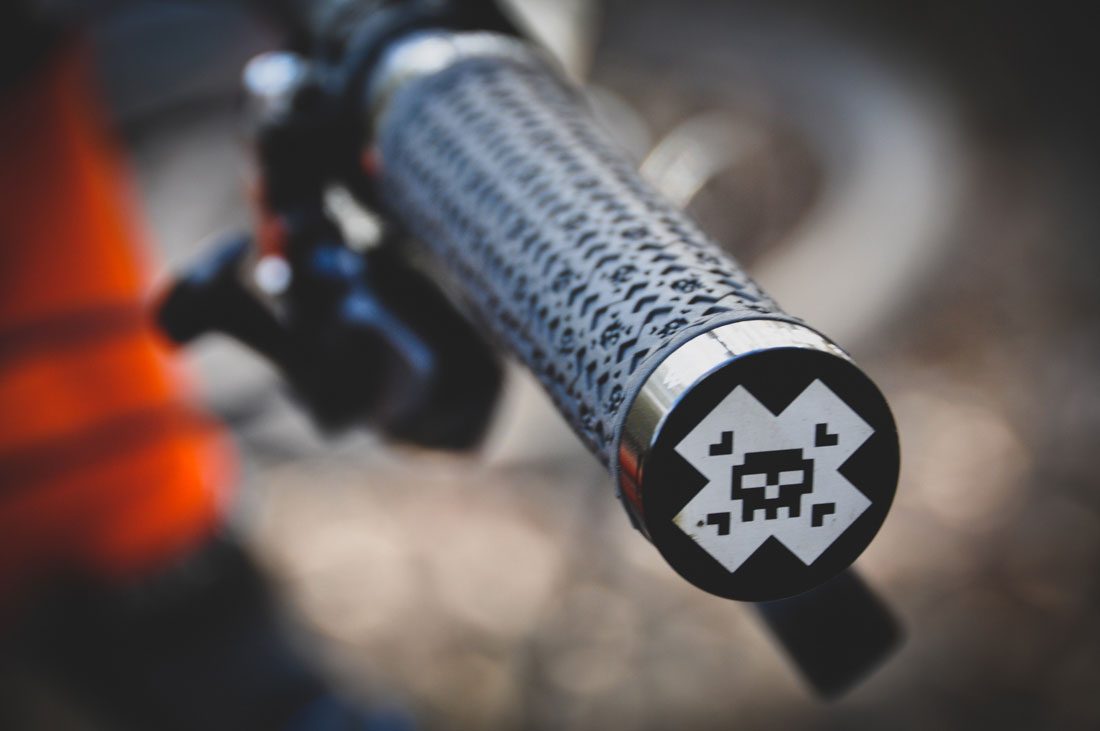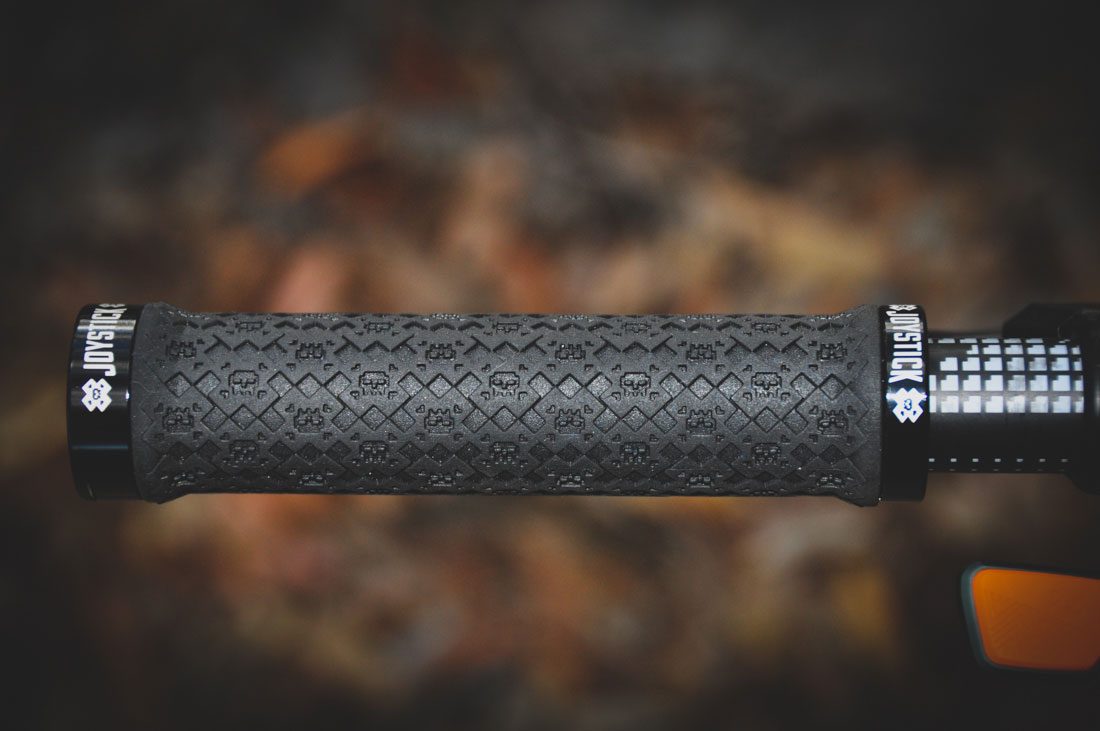 The Joystick lock-on grips feature a narrow profile for positive and accurate trail feedback with a comfortable, anti-slip, and shock absorbing pattern. The Joystick grips are designed to work perfectly with carbon and alloy bars with two alloy clamps that lock the grip firmly. Featuring the classic Joystick skull logo pattern on the grip and the end caps. These grips look the biz!
X-Logo Lock On Grips Specifications:
---
Out On The Trails
The Bar
Being 6′ 1″ the 800mm width felt bang on the money for my gangly arms and body. The 20mm rise, 9° bend, and 6° upsweep provided a relaxed but positive position when it came to riding positions, both climbing and descending.
The bar geometry felt excellent in the corners, being responsive and easy throwing the bike down and manoeuvering. Overall the Analog bar felt balanced over all types of trails and obstacles, even throwing that customary bar turn whilst in the air. Trail feedback is precise with good vibration reduction, so although the Analog is a very rigid bar, it cuts out all the unnecessary chatter.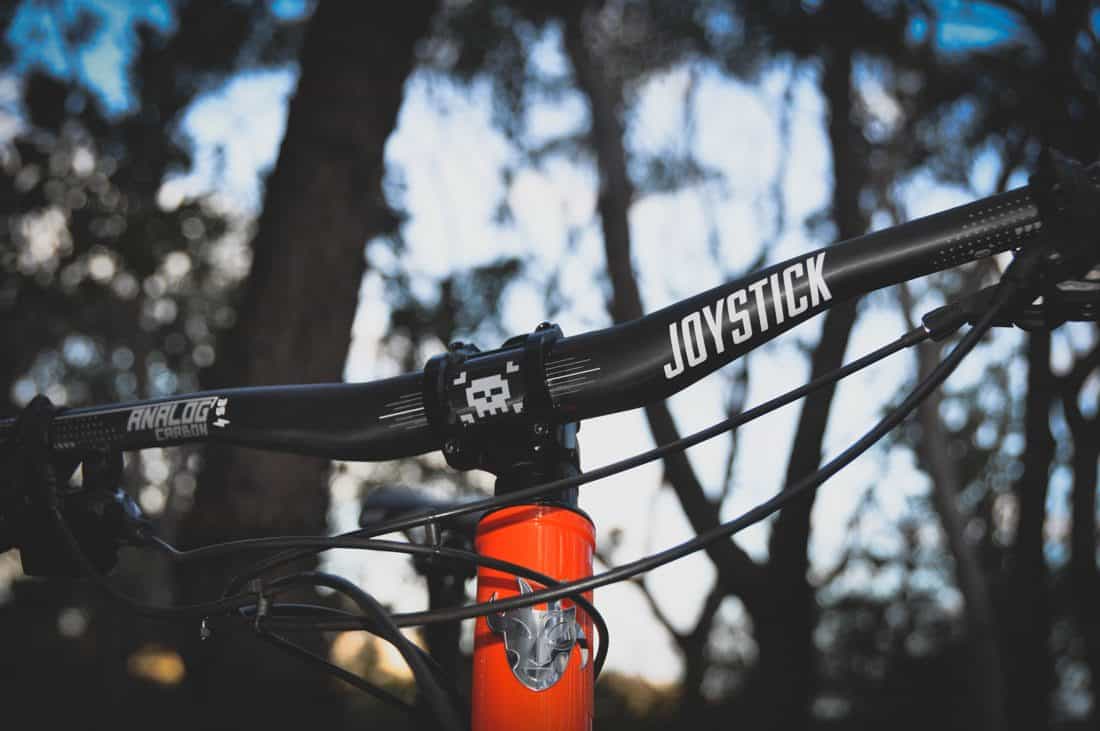 Above: The Joystick Components offer pro-performance tech and trail feedback at a competitive price.
Photo: ©TyresandSoles
---
The Stem
Out on the trails, the 35mm Binary stem provides snappy and responsive feedback when maneuvering and directing the bike into technical sections and corners.
The extra clamp surface adds peace of mind in terms of strength and taking on those bigger drops and when it comes to style, the Binary stem gets 5 stars in the looks dept. The joystick stem and bar combo feel like a match made in heaven!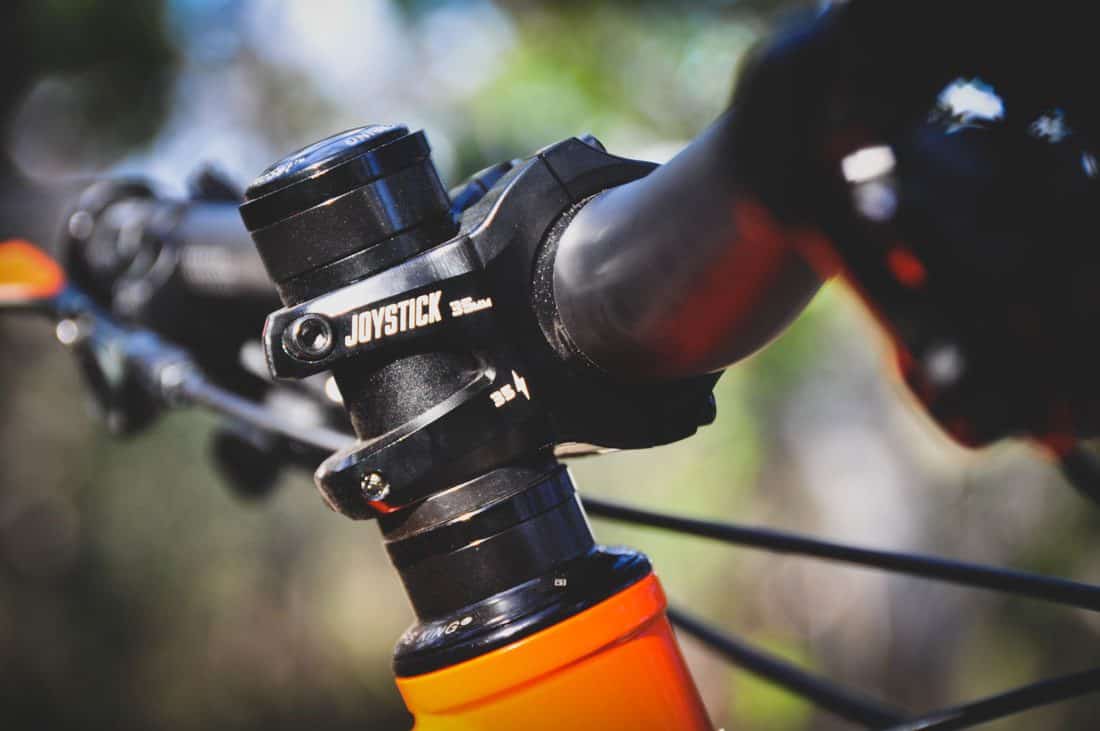 Above: With a wider clamping surface, the Binary stem adds massive amounts of strength while still keeping weight down.
Photo: ©TyresandSoles
---
The Saddle
Just looking at the Binary Saddle I was concerned about the levels of padding, it's pretty minimalistic. That being said I've been using the Binary Saddle for several rides and yes, the comfort level is indeed minimal but is certainly passable. The groove in the centre helped reduce pain in the soft tissue area, but if I was going for longer rides, I would probably opt for one of their other models with a little more padding. However, for race purposes, this saddle is a fantastic choice.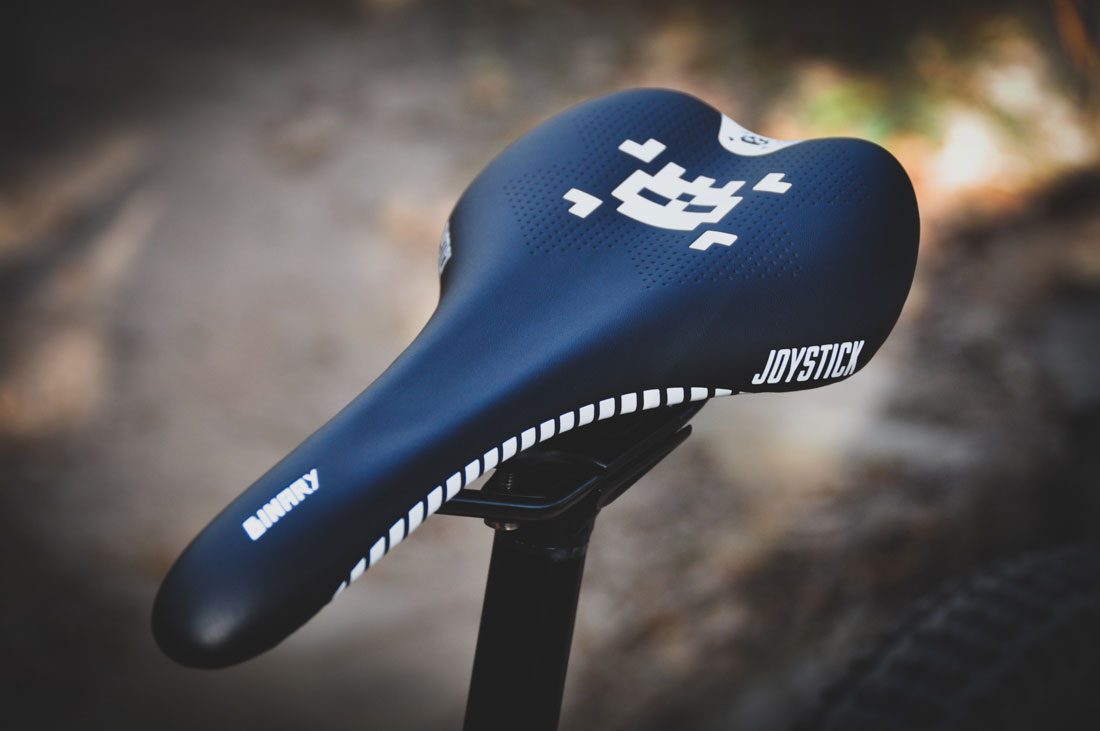 Above: Although the Binary saddle is somewhat thin on padding, it still manages to include the soft tissue protection channel and is uber-light. A very good choice for Enduro racing. Photo: ©TyresandSoles
---
The Grips
If you like rigid and accurate feedback from the trail, then the X-Logo lock-on grips are a good choice. The combination of the low profile design, grip pattern and material, offered excellent grip in dry and wet conditions and good dampening resulting in zero arm pump throughout the testing phases.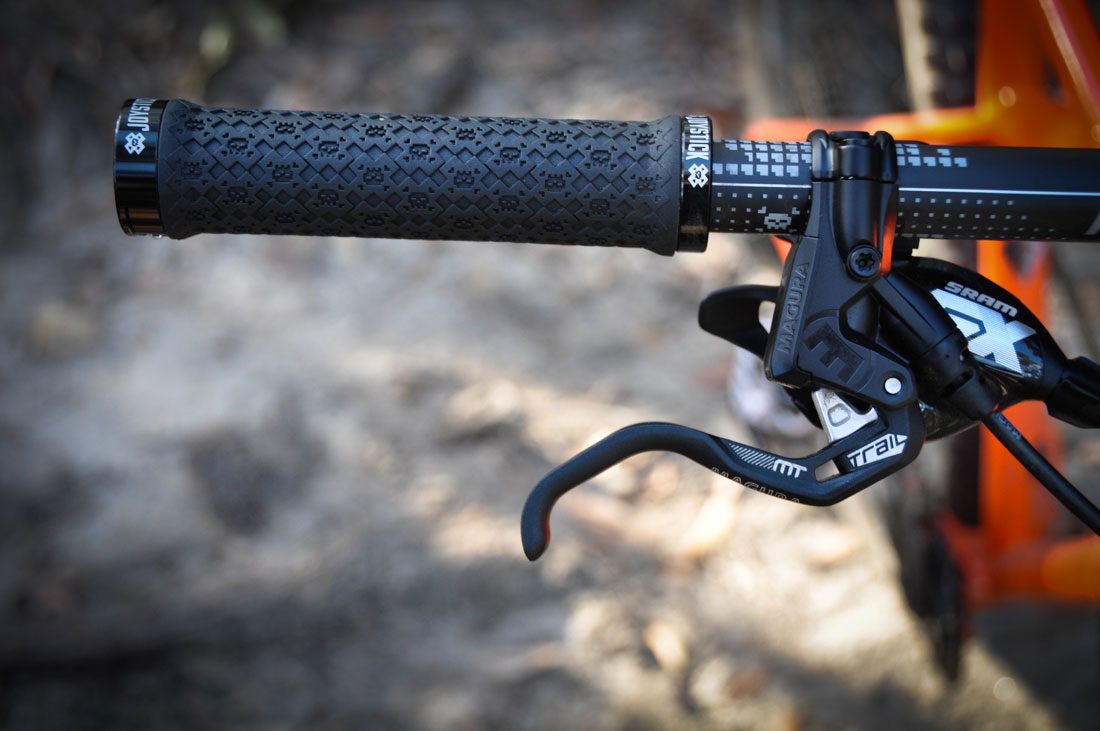 Above: We really fell in love with these grips. If it's not the styling and graphics that will hook you, then the grip certainly will. Photo: ©TyresandSoles
---
Conclusions
Overall, we were happy with the look and feel, and quality of the Joystick components. The design and build are on par with other higher-priced brands out there and is worth noting if you are in the market for a new cockpit setup.
All in all, the Joystick components offer a pro-level package that oozes style and quality with a dollar price that's hard to beat. So if you're looking to change your cockpit anytime soon, then we'd recommend Joystick Components.
Where to Buy / Price
Can be purchased at MTB Direct and other good online retailers or ask at your local bike shop.
---