PNW Rainier IR & Loam Lever Combo – Review
Cut to the Chase
This is the first ever 10 out of 10 we've awarded! If you're looking for a dropper post upgrade and are thinking of the higher priced brands, then stop! Stop right now and check out what PNW components can offer you. This could very well be the ultimate dropper post combination and is easily worthy of an award in our books.
Pros
Price
Weight
Reliability
Buttery smooth actuation
Bling levels are high!
Cons
None that we can think of.
---
The PNW Rainier and Loam Lever combo could be the ultimate dropper post package!
It has to be said that the dropper post is one of the most impactful upgrades to a bike you can make. It changes the way you ride, for the better, and gives you a much safer experience on the trails.
Unless you're a pro-XC racer (but even pro-xc riders are starting to change) or just an old skool rider who prefers fixed seat posts (why!?!?) or simply just hasn't purchased a bike in a few years, then you will see that the dropper post is now ubiquitous amongst mountain bike riders.
Who is PNW?
PNW was created by husband and wife duo, Aaron and Emily Kerson. With a history of elite level downhill, dual slalom and BMX racing and backgrounds in bike product development, marketing and sales, they have a vision to provide riders with the best quality components, at a much cheaper price point.
Sick and tired of how expensive bike parts are, Aaron and Emily changed the way bike products are made and sold to customers by working directly with manufacturers and cutting out the middle man.
What does that mean for us? Well, it means we get a superior product for a fraction of the cost compared to similar products on the market, leaving a few more dollars in our wallet for those post-ride beers and burritos and still have a product that performs as well, if not better, than something two to three times the price.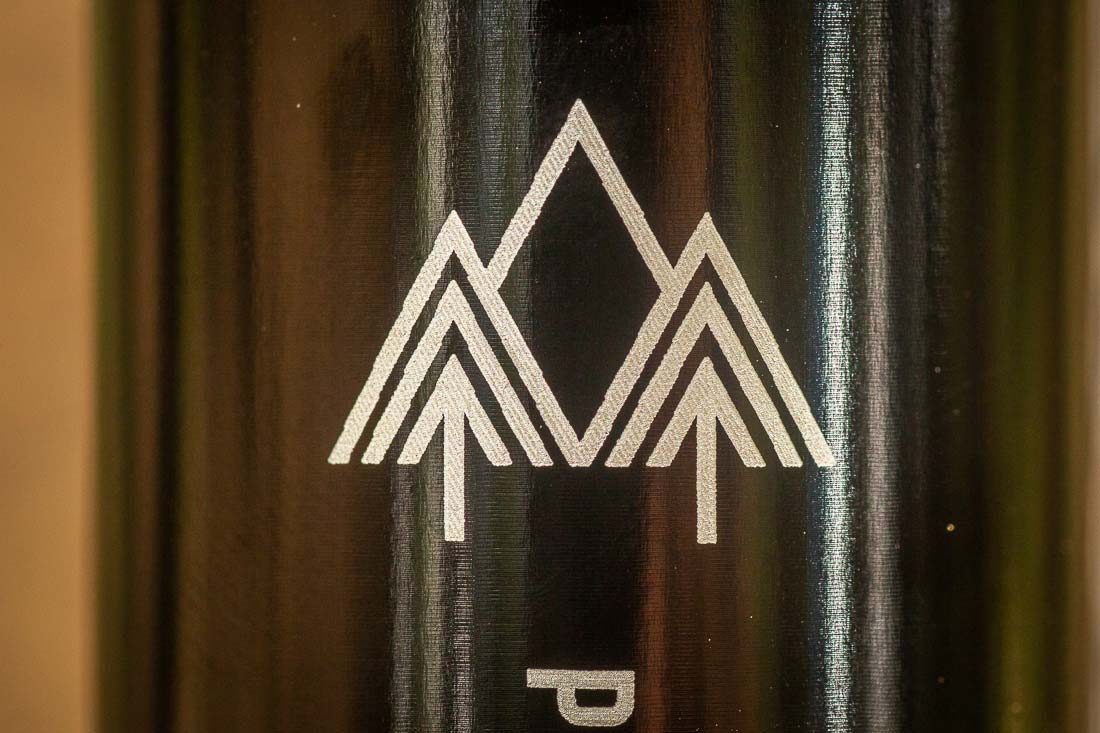 Above: The PNW logo is set to become a much more common sighting out on the trails. Photo: ©Richard McGibbon
---
Features – Rainier

The whole idea behind the Rainier dropper post is a "set it and forget it." ethos, and hell, isn't that what we're all looking for these days? A return to a simpler riding experience while the gadgetry is doing (or should be) doing its work under the hood. A bit like magic. Well, the Rainier is just like that, it's sheer magic to ride with.
The PNW Rainier IR is an internally routed dropper post that uses a coil spring rather than an air cartridge. The coil spring brings a level of reliability by reducing issues such as air leaks and stickiness due to swings in air temperature, summer vs winter for example.
The Rainer IR has a large diameter stanchion with added DU bushings which reduce the side-to-side play that you get in pretty much all other dropper posts on the market. After the months of riding, there's still no play detected. The Rainier is also pretty light. We weighed it on our scales and it came in at a feathery 0.58kg.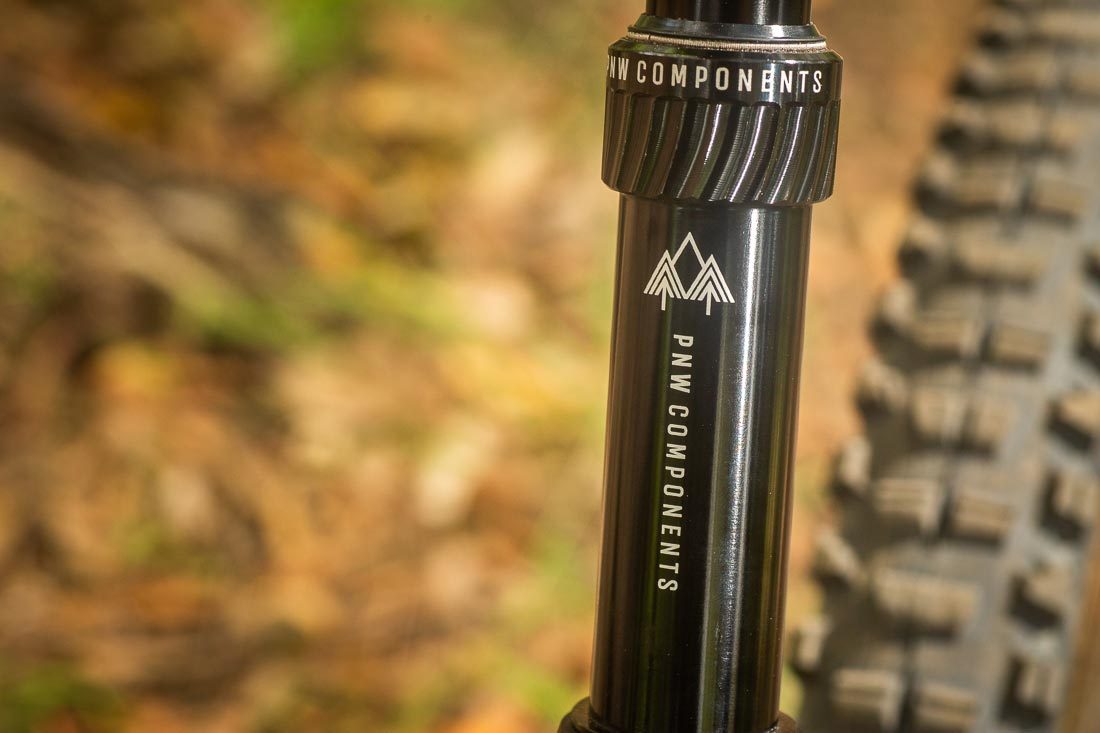 Above: The Rainier IR uses an aditional DU bushing to combat seat wobble. Photo: ©Richard McGibbon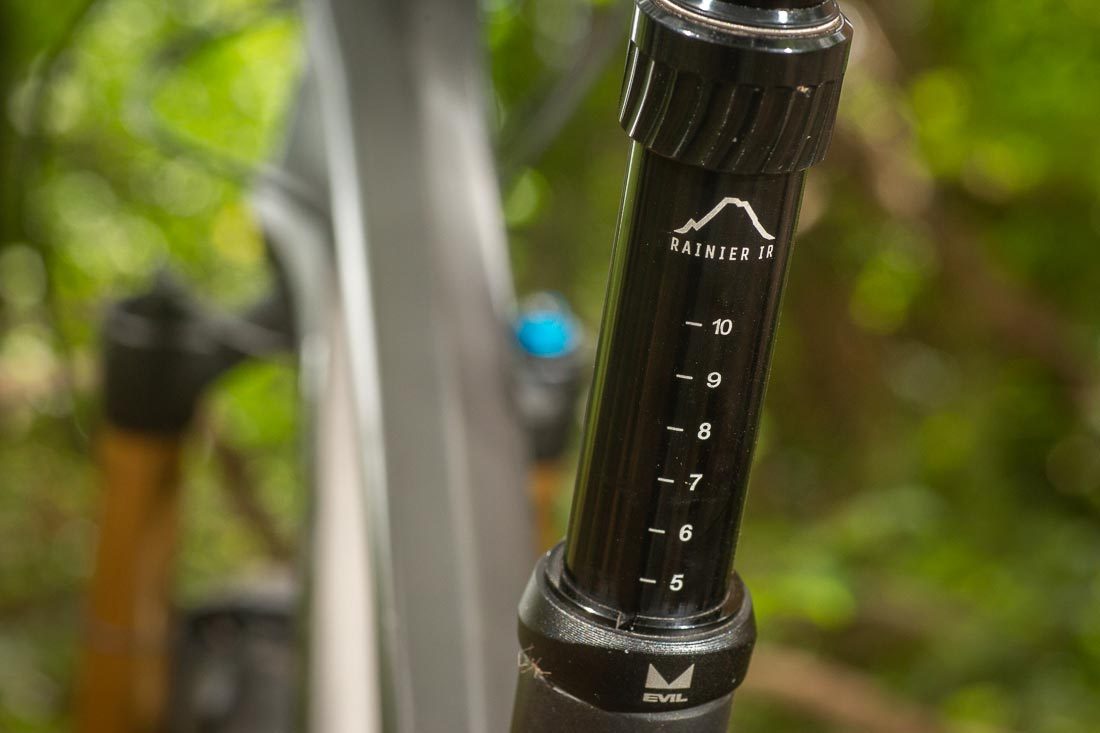 Above: 125, 150 or 170mm options available, providing plenty of space between your bum and the seat. Photo: ©Richard McGibbon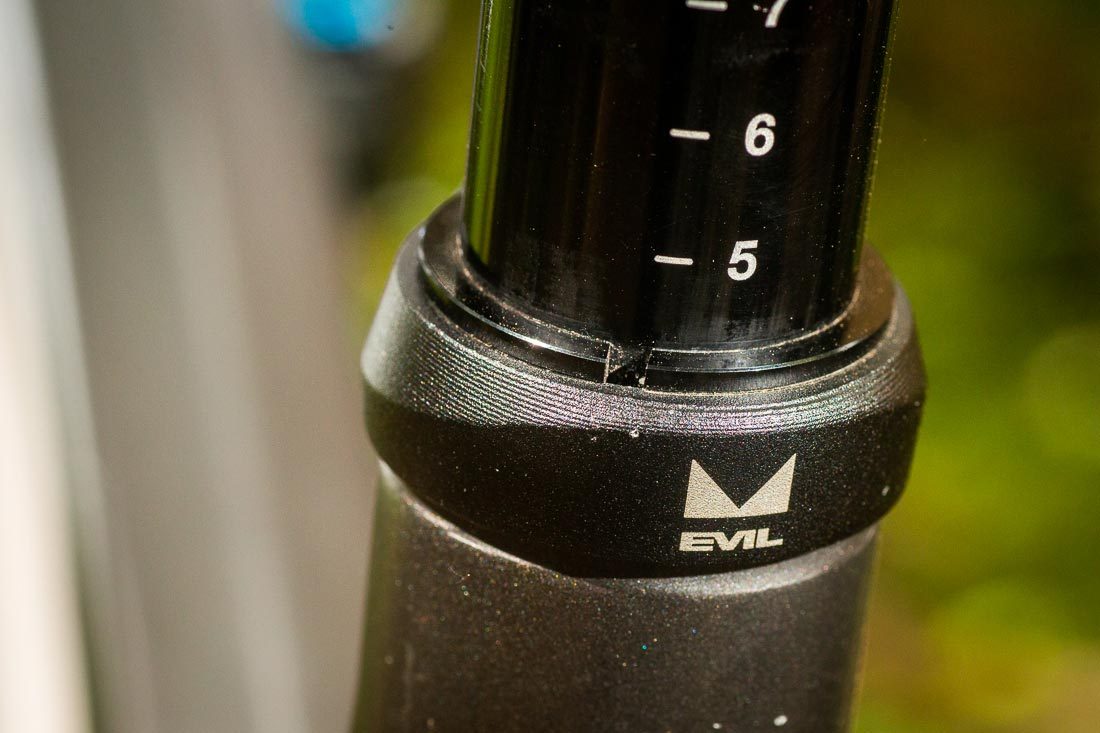 Above: We had to use a shim to fit into the 34.9 seat post of the Evil Wreckoning test bike, which worked perfectly. Photo: ©Richard McGibbon
---
Features – Loam Lever
The Loam Lever is a CNC machined custom aluminium lever designed to replace pretty much any cable actuated dropper lever on the market (see specs below). With an underbar design, the Loam lever keeps the cockpit nice and clean and comes in a range of bar and brake matching options such as the Shimano I-Spec or Matchmaker.
The Loam lever uses a large non-slip, injection moulded thumb pad, available in three colours. Orange, teal and grey. We chose the orange as it matched some of the other components on our bike. The end result is mouth watering and certainly is a conversation starter on the trails.
PNW has focused on ease of installation by using a split clamp design, which means you don't need to remove your brake lever or grips to get the job done. PNW also designed it with a cable clamp bolt, instead of relying on cable head, making it much more universal and simply faster to install.
Adjustments can be refined by using the grub screw behind the lever. This adjusts the distance between the paddle and your thumb, similar to how brake lever adjustments work.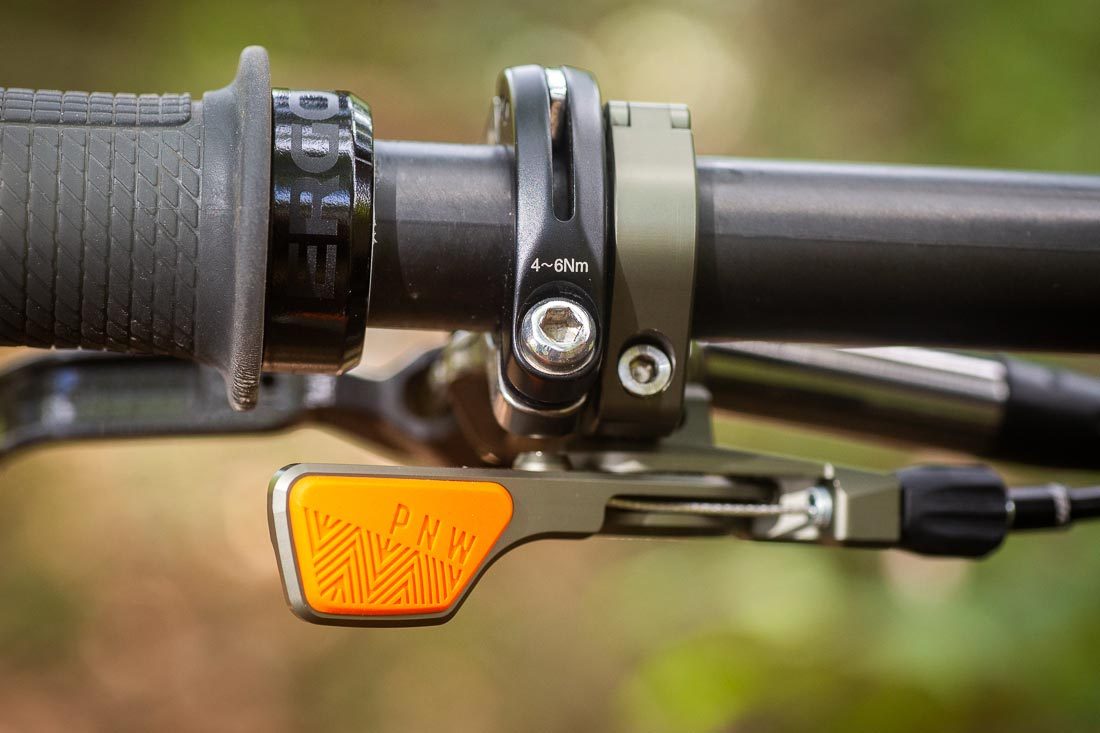 Above: The large non-slip, injection moulded thumb pad. Photo: ©Richard McGibbon
---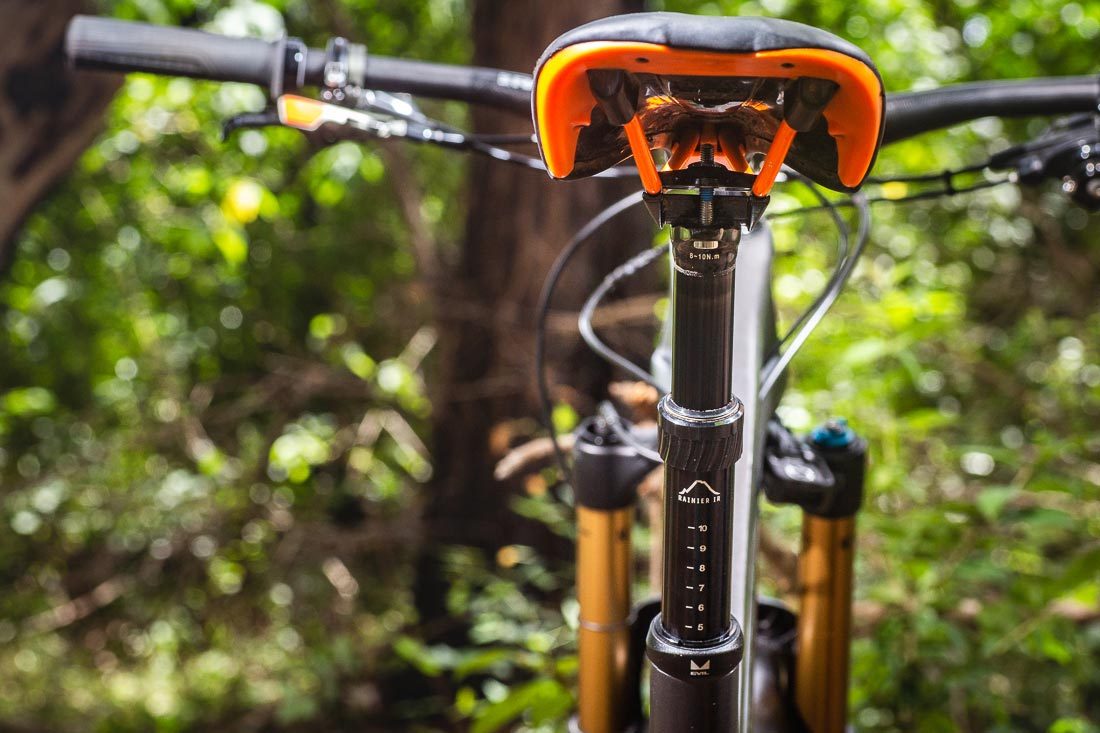 Above: The PNW Rainier dropper post and Loam lever is a marriage made in heaven. Photo: ©Richard McGibbon

---
On The Trails
We've been testing the Rainier IR and Loam lever combo for about 6 months and have been amazed at the overall performance this package offers, at such a competitive price point.
The Loam lever thumb pressure feedback is precise and buttery smooth and the large non-slip, injection moulded thumb pad is very comfortable to use, in all weather conditions. The buttery smooth feel is partly down to the oversized sealed bearing the lever uses. There's nothing worse than a wobbly or jittery lever, but after 6 months of testing, we still have a wobble-free lever. In terms of sensitivity, it's up there with the best.
What we like is the speed of the dropper. It has that Goldilocks feel, not too fast, not too slow. There's no need to shift your body weight to get the downward motion started, no stickiness or grinding. It simply drops and drops perfectly smooth, every single time.
What can we say about the Rainier IR dropper post and Loam lever combo? Well, it truly is a fantastic product that marries perfectly together. If you're looking for a dropper post upgrade and are thinking of the higher priced brands, then stop! Stop right now and check out what PNW can offer you. This combination is worthy of an award in our books.
---
Where to Buy / Price
---
Rainier IR Specs:
Infinite Adjust: choose the right position for you on any part of the trail.
Includes lever kit (remote lever, cables/housing, all required hardware)
Post Material: 7075 Alloy
Travel: 125, 150 or 170mm
Diameter: 30.9 or 31.6mm
125mm travel options come with lever compatible for front shifters, 150 – 170mm travel options come with 1x Lever
Internal cable routing
3-year warranty!
Loam Lever Specs:
Clamp Styles: Standard 22.2mm Hinge Clamp, Sram MatchMaker X (Guide brakes – still requires Sram hinge and T-nut), Shimano ISpec II (XTR M9000, XT M8000, SLX M7000, DEORE M6000)
Weight: 48g (With 22.2mm Clamp)
Accepts cable routing from either direction
Includes Jagwire derailleur cable
1x Shifter Style
We don't believe in waste: 100% recyclable packaging
Compatibility: Every cable actuated dropper post we've tested such as:

Fox Transfer
OneUp Dropper Post
9point8 Fall Line
Bike Yoke Revive
DVO Garnet
Easton Haven
Raceface Turbine
KS (all)
TransX
Thomson
Specialized Command Post
Shimano Koryak
Gravity Dropper
Brand X
e*thirteen TRS+
Thompson
Giant Contact
Bontrager
Crank Brothers Highline
and many more droppers
---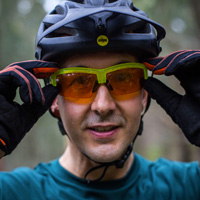 Chief Editor
at
Tyres and Soles
Born and grew up in Wales but now a fully fledged Aussie. A passionate mountain biker, hiker and general nature addict. I'm also a bit of a muso and enjoy a good craft beer every now and again (probably too often).

I hope what we do here at Tyres and Soles will inspire people to get out there and experience first hand, the natural wonders that surround them. So, pump up those tyres, don your favourite boots. Grab a mate, a partner, a pet… and head out into nature. But tell us all about it when you get back.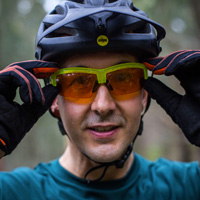 Latest posts by Jason Lorch (see all)