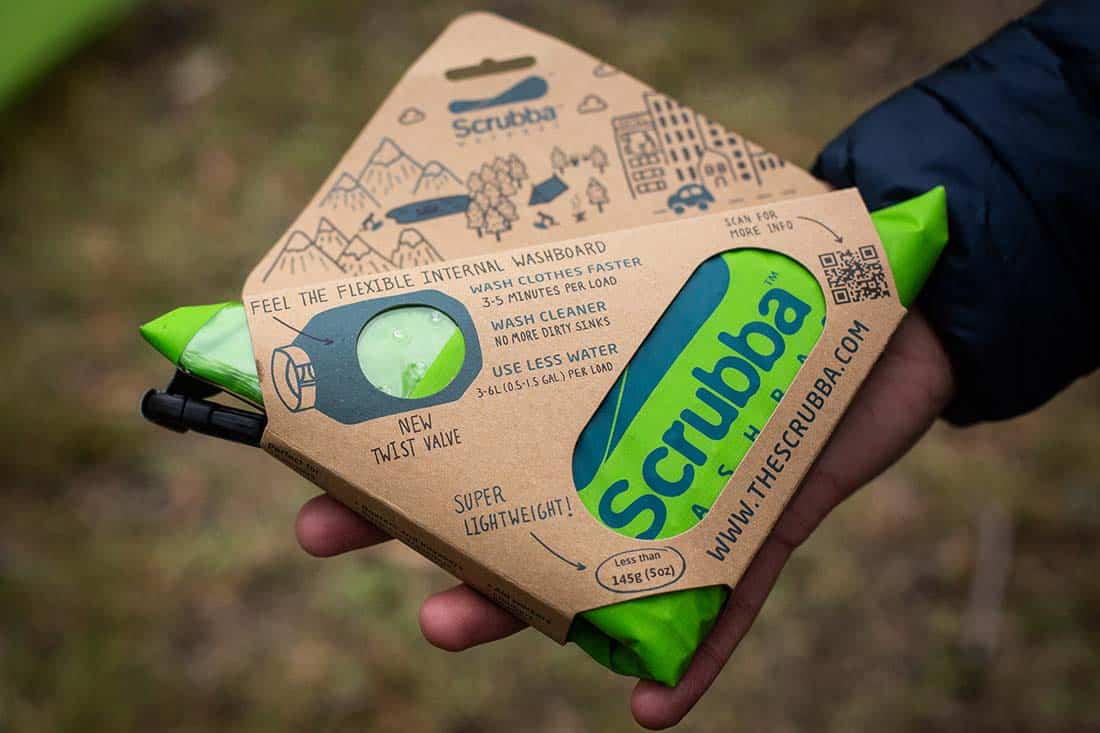 The Scrubba – Gear Review
Cut to the Chase
The Scrubba Wash Bag is an ultra-portable washing machine that allows you to travel lighter and helps you save money, time and water. Weighing 142g the Scrubba Wash Bag is a modern take on the old-fashioned washboard, is much more effective than hand washing and a lot more hygienic than a dirty hotel sink. What's not to like?
Pros
It's a storage bag and a washing machine in one!
Cheap as chips!
A Scrubba Dub Dub with The Scrubba Wash Bag
We all know how travelling broadens your mind and adds a richness to your state of mind. The places you see and the people you meet is a priceless experience. But it can also be expensive especially for mundane things such as laundry, meh.
If you're a budget traveller then you'll have experienced a few dirty hotel sinks in your time, or if you're someone who goes off the beaten path out of range of any laundromats, then washing your clothes can become tricky. So what if you could have your very own portable washing machine?
What is the Scrubba Wash Bag?
The Scrubba Wash Bag was conceived in 2010 by founder Ash Newland, an Australian patent attorney when he and his friend were heading off to Africa to climb Mt Kilimanjaro. They wanted to travel light with only a couple of change of clothes but weren't sure how they could wash their clothes whilst on the move. The idea of a rollable and personal washboard came about, and thus, the Scrubba Wash Bag was born.
Based out of Melbourne, Scrubba Bags are now shipped worldwide and are used by travellers, backpackers and businessmen and women alike. The range has also grown to over 20 different products all made to make travelling a little bit easier.
First Impressions
It's often the simplest things in life that just seem to work the best, and this is very much the case with the Scrubba bag. The bag weighs a mere 142 grams and is relatively small when laid out flat. It has a roll top design that clips together, an air valve and a small clear window so you can see the clothes magically cleaning in front of your eyes.
Features
The Scrubba Bag is touting itself as the lightest washing machine in the world, and weighing only 142g and so small you can stuff it in pretty much any pack, we'd have to agree. What we really liked is the very clear, international and illustrative user instructions printed on the outside of the bag.
The bag features a transparent window so you can monitor the washing and water levels without having to unroll the lid. The rear of the bag has a grippy backing so it doesn't slide around on smooth surfaces when washing.
Inside the Scrubba bag is a flexible washboard panel, this is how the Scrubba bag washes so effectively and is the key to the design. There's a small air valve, similar to what you'd find on an air mattress,  which allows you to let air out so you can begin the rolling and washing process.
What was also a nice touch, is the way the Scrubba Wash Bag can be used as a dry-bag and/or some extra cushioning under your pillow in the tent. In lightweight hiking, you try to look for two or more uses for a single item, so this was a great little discovery for us.
Dimensions:
54cm x 32cm (when laid flat)
16cm x 6cm x 6cm (when rolled for storage)
Weight: 142 grams
How It Works
The key to the Scrubba wash bag is the flexible internal washboard that provides a machine quality wash in just minutes, making it perfect for travel and camping.
Six easy steps are all it takes to wash your clothes in the Scrubba wash bag:
Fill, Roll & Clip, Deflate, Rub, Rinse and Dry.
Fill
Add water, cleaning liquid and clothes to the Scrubba™ wash bag (20-40% volume).
Roll & Clip
Remove excess air from the bag, then roll down the top at least 4-5 times and clip ends.
Deflate
Twist the valve and press down on the bag to expel any excess air from the Scrubba wash bag.
Rub & Rinse
Press down and rub clothes against the Scrubba wash bag's unique internal flexible washboard for 30 seconds for a quick traveller wash or for 3 minutes for a machine quality wash.
Unclip and unroll the Scrubba wash bag's seal. Remove dirty water from the Scrubba wash bag.
Rinse clothes with fresh water in the Scrubba wash bag or under a running tap or shower.
---
Where to Buy / Price
Head on over to the Scrubba website to purchase the bag and see the full range of products on offer. The Scrubba bag is now stocked in many stores around the world, check out their locations here.
Price: $69.95 AUD