After a hike up a mountain and a few laps in the bike park a few weekends ago, I was feeling it everywhere, but especially in my thighs! These were the poses I chose to help stretch out my quads.
Caution! If you have a knee injury, these can cause tension so you should have a chat with your medical professional first.
Vajrasana and Virasana (Thunderbolt and Hero pose)
Start slow – these poses may look easy, but depending on the degree of openness you have in the quads, knees, and ankles, these two poses may not be as easy as you first think.
To begin, bring the shins to your mat, toes untucked and sit on the heels. The knees and the ankles are close together, making sure the toes, especially the pinkies, press into your mat.
Place the hands on the tops of the thighs and take 10-30 deep, steady breaths here in thunderbolt. If you are feeling very uncomfortable in the knees and/or ankles, feel free to add some padding! This could mean a blanket under the shins, rolled up under the knees or the ankles, or a bolster/cushion between the hips and the ankles to give yourself some more height.
If you've also been doing some hiking or running or high-heel-wearing, my favourite variation to stretch the feet is to tuck all the toes (taking extra care to make sure the pinkies are tucked – those little guys don't always like to) and sit on the heels. Try to manage 10 slow breaths here; it can be very intense.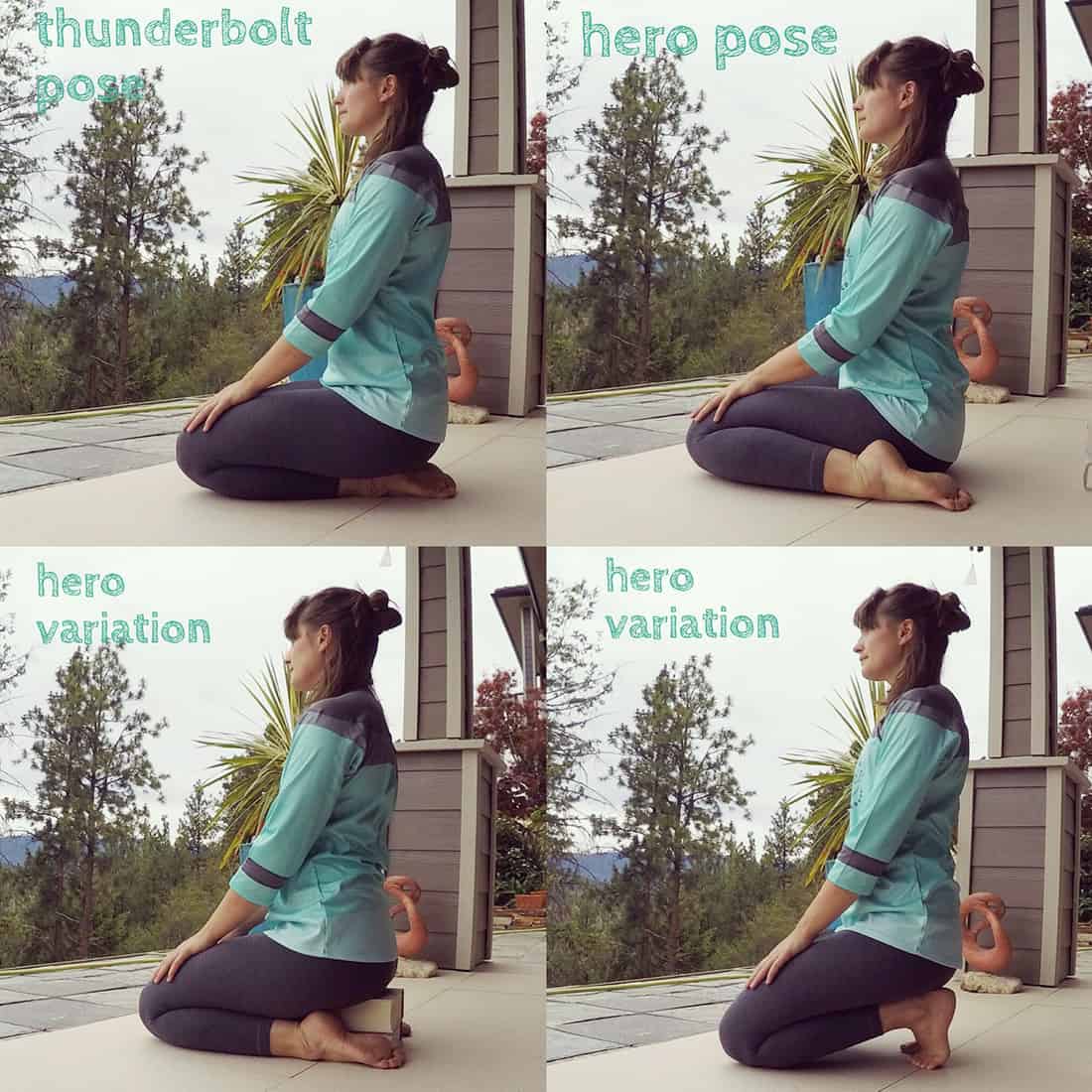 Barring any serious tension in the knees, widen the ankles and allow the hips to sink to the mat between them, keeping the knees close together and pressing them to the mat.
Again the hands come to the thighs, breathing deeply for 10-30 breaths.
Note: If you are having trouble sinking the hips to your mat without the knees lifting or feeling very tense, elevate the hips with blocks or blankets. (See Hero Variation)
Ardha supta virasana (Reclined Half Hero pose)
A wonderfully passive way to find a deep stretch in the quad, begin seated, tucking your left ankle to your left hip. Your left toes are untucked, and your left knee is pointing forwards as you press it down into your mat, like we just did in hero pose.
Two options for your right leg – either extend the leg straight with the foot flexed, or bend the right knee placing the sole of your right foot on the mat at a distance that feels comfortable for you.
Bring your hands to the mat just wider than the hips and being to walk them backwards. Actively press the left knee and hips down, feeling a deep stretch along the top of the left thigh.
If you can move deeper without the knee lifting, your options are:
Bring the forearms down, then
Keeping the heart lifted, the shoulders and the back of the head come down, then
Keeping this gentle backbend, lift the arms overhead clasping opposite elbows
Wherever you are, take 10-30 breaths, then switch sides.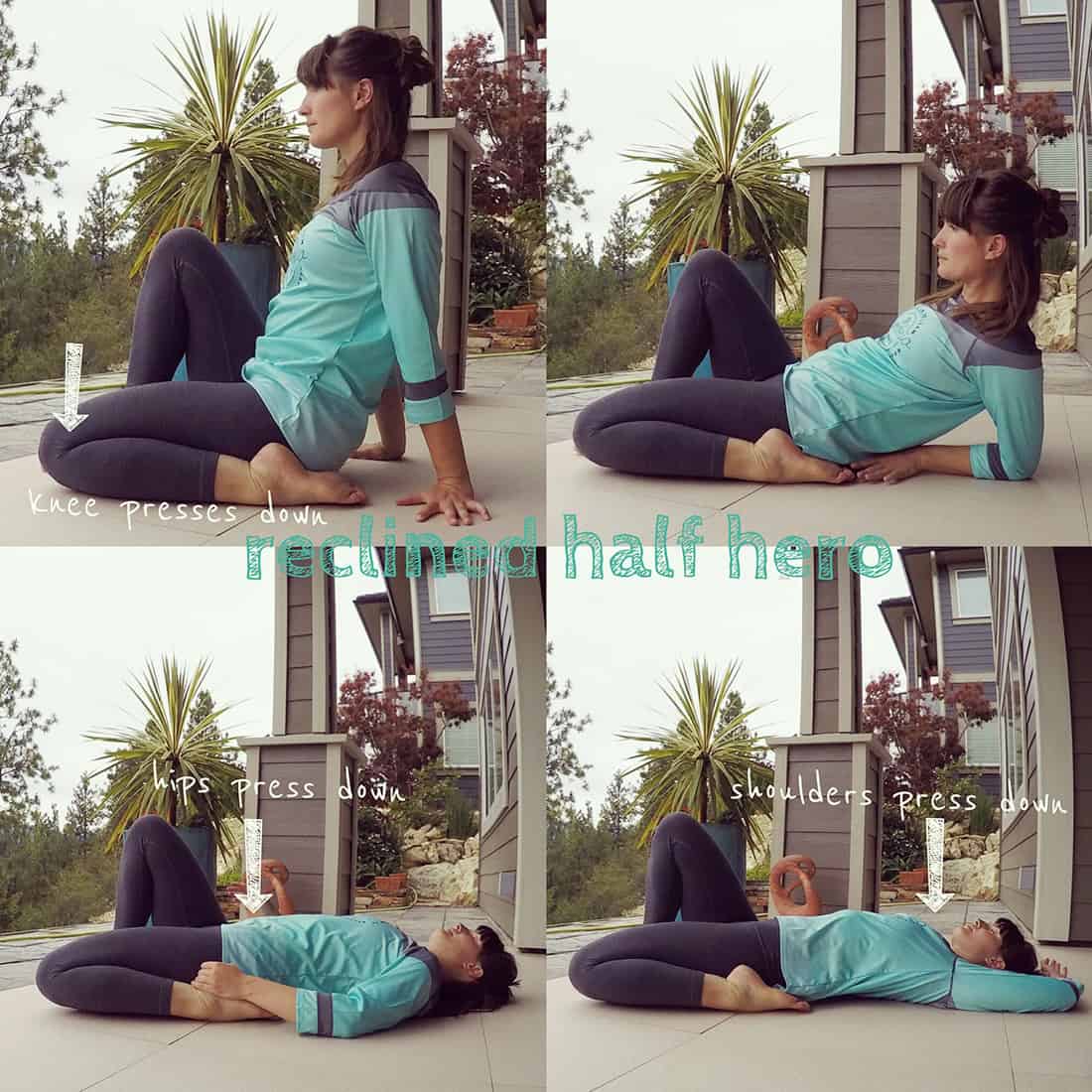 Anjanayasana Variation (Low Lunge with Quad Stretch)
Another more active way to stretch the quads while also opening up through the hips, shoulders and chest, is to come into a low lunge with the right leg between the hands.
Turn your left fingertips out about 45 degrees to the left as you press firmly into that hand (or come up to the fingertips to build strength in the hand and wrist).
Bend your left knee and reach your right arm behind you towards your outer left foot or ankle. If you aren't quite able to reach your foot yet, reach for a strap or scarf and loop it around your foot.
A few options here – first, back out a little by lifting the hips up high as you pull your left foot towards you, aiming to connect your left foot with your bum as you gently open the shoulders to the right.
Breathe here for 5-10 breaths, or move deeper if you've made contact by keeping that contact as you sink your hips low towards your mat.
To find a little backbend, kick your left foot into your right hand as you open your chest towards the sky, being cautious of too much compression in your low back (think lift through the chest combined with a strong core).
Take 5-10 breaths here before going through the same sequence on the other side.
---
Editors note…
So there we have it folks. Yet another great Yoga class specially created for you by our Yoga guru, Brogan Kiss. These are some great options for you to stretch those quads. You can pick and choose which ones work best for you and your current ability.
Remember, go slow and enjoy it. If it's too painful, then back it off. A good quad stretch is crucial to enjoying your hiking and biking adventures now and into your senior years.
Check out our other Yoga specials here or head on over to Brogans website!
See you outside!


Brogan is a yoga teacher and student, geological engineer, hiker, runner, cyclist, lover of ice cream and salty hair and going on all kinds of adventures. She's currently located on Canada's northwest coast.
Check out her Instagram page @ instagram.com/brogankk/