Exploring The Trails at Sparrow Hill, Canberra.
With the deluge we were having in Sydney, we decided to make a mad dash to Canberra in the hope that we could escape the downpour and actually get out on the bikes this weekend. We've ridden the trails at Stromlo, Majura Pines and Tuggeranong Pines before, so this time we wanted to check out the trails at Sparrow Hill, but we planned on riding those on Sunday. First, we had to work out where to ride today.
We decided to hit up the trails at Majura Pines, but by the time we arrived the weather had turned sour. We don't mind riding in the rain (we're Welsh after all), but to drive two and a half hours to get soaked, isn't our idea of fun.
The trails over at Stromlo Forest Park handle the wet pretty well, so that's where we headed. It turned out to be a good choice as the trails were fine and as usual, we had a blast. A good day of riding was had and to be able to of done that was a bonus, considering the weather Sydney was having.
Accomodation
Although only two and a half (approx) hours away, we wanted to make the most of it and ride on Saturday and Sunday, so we decided to stay overnight. We stayed at the Alivio Tourist Park, situated on Bruce Ridge, where they happen to have some nice mtb trails. You can practically get out and hit the trails right outside your cabin door.
We stayed in a Ridgeview cabin. There were only the two of us but it had two bedrooms, one with a double and the other with a bunk, so you could get more people in and it would be much cheaper between a bunch of you. It had all the usual amenities and was simple enough. We didn't spend long in it, just showering and sleeping.
Eat and Drink
The park also has a cafe and bar where they serve breakfast and dinner. For dinner, we decided to head out to a local bar called The Duxton, which was jam-packed, it was Saturday night after all. The steak was FANTASTIC! and they also have some decent beers on tap. It's certainly worth checking out. It is a sports bar so there are some rowdy areas.
Another place to check out, which is also close to Alivio, is the Bentspoke bar and brewery. This is a great spot for tasty beers and food. It has a great vibe and is one place we'll be coming back to. OK, enough of the food and accommodation. Let's get on with the trails.
Taking Flight at Sparrow Hill
The Kowen Forest enclave of Sparrow Hill was introduced to mountain biking not long after the horrific bushfires of 2003 demolished the cherished tracks on the slopes of Mt Stromlo. Former rally car driver Paul Cole, who had built many of the Stromlo MTB tracks, had converted to two wheels and ferreted out Sparrow Hill for his new tracks.
Mostly working alone, but with occasional helpers such as Nigel McGinty (McGinty's) and Chris Short (now-defunct Japanese Garden), as well as the Self Propelled Enterprises crew (Kowalski Brothers), he forged tracks through the rough, pine-forested territory on the western slopes of Sparrow Hill, giving a relieved mountain biking community, and CORC, a new home in which to indulge their passion.
Riding Options
The marked courses are KID STUFF, SHORT LOOP, LONG LOOP, and ARCHERY LOOP.
KID STUFF is a family-friendly 5km track, well-suited to mums and dads trying to keep up with the kids.
SHORT LOOP is 16km and shows the promise of further exploration.
LONG LOOP is 40km-plus, a feast of well-maintained single-track with features guaranteed to put a smile on your face.
ARCHERY LOOP is 11km if ridden via the speedy Lickety Split, or nearly 15km if ridden via Wonderland and Spider Web. Before Archery Loop returns to the car park, there is an option to rejoin the main loops, and ride anything up to another 40km.
All of the marked loops run the first couple of kilometres together. Just follow your chosen loop sign when it appears, and the red arrows until you see another sign, and so on.
As we'd never ridden the trails here before we opted for the full loop of 40kms and then decide on the fly whether to cut it short, depending on how we were feeling. As it turned out, we were enjoying ourselves so much that we just kept on going and completed the 40km loop.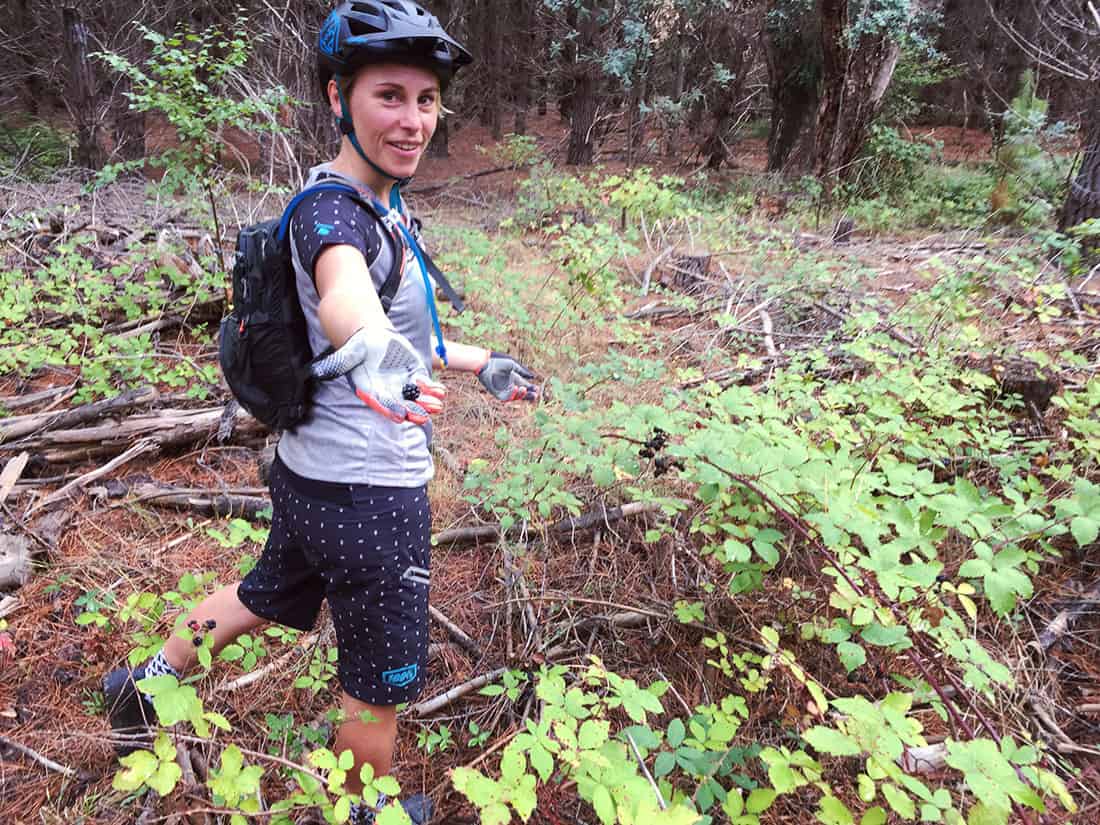 Trails to Suit All Levels of Riders
The majority of the trails have a classic XC feel to them. There are a lot of well groomed flowing sections with some fast descents thrown in for good measure. The climbs are all graded very well. I don't recall a single difficult pinch climb or any sketchy obstacles to manoeuvre, it was all very rideable.
The trails here will suit a wide range of riding abilities. This in itself is a major achievement. To have a network of trails this large and all of it to be as rideable as it was, plus well-groomed, is a thing of wonder. I guess this is why it's so popular with a lot of riders, from pro riders to beginners. You can go flat out or take it cruisy.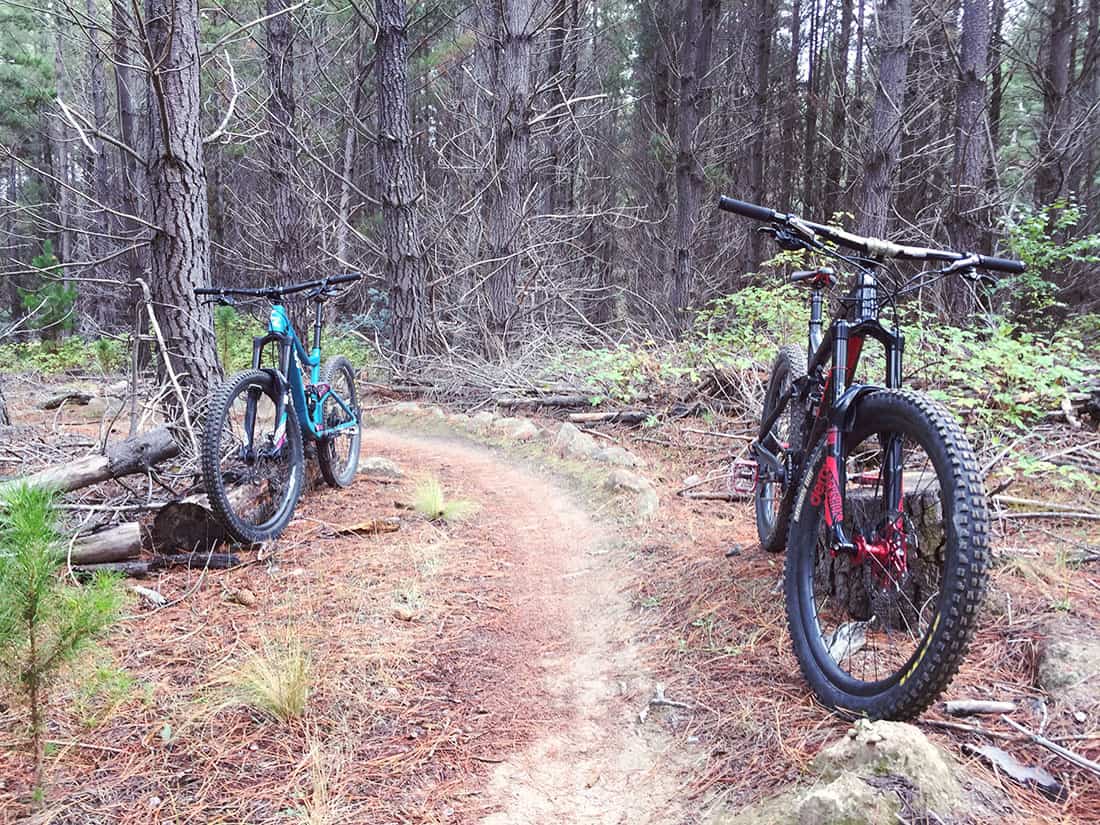 Conclusions
All in all, it was a thoroughly enjoyable day of riding with plenty of loop/distance options. Depending on how you feel on the day, you can cut it short or go the full hog. We can see why these trails have proved so popular with riders, as they appeal to a wide variety of rider abilities.
With no major obstacles to contend with, there are trails here for the beginner, the pro, and the whole family. Next time you're down in Canberra, why not pop over and check them out.
How to get there
Take the King's Highway towards Bungendore and Batemans Bay from Queanbeyan, and about 11km out, turn left at the Kowen Forest road sign, onto Sparrow Hill Road.
About 1km further on, Sparrow Hill Road dead-ends in an extensive parking area, and on the right is the entrance to the mountain-biking tracks, where you can pop your bike over the fence, or take it with you over the stepover.
A sign inside the fence welcomes you and details the marked loops you might take. But there are no limits – all tracks are two-way, and feel welcome to go anywhere you like.
Facilities
• Public loo: Yes, 200m up the mtb track
• Mobile reception: Telstra 3G works most places. Others may be intermittent
• Camping: Sparrow Hill is mid-way between Queanbeyan and Bungendore – 10 minutes either way. Nearest camping is at the Queanbeyan Caravan Park, 41A Morisset Street
(02) 6297 4749, http://www.qbnriversidetouristpark.com.au/
and the Bungendore Showground Camping Area, Mathews Lane, http://www.caravancaravan.com.au/entity/bungendore-showground-camping-area/nsw
• Shelter: None
• Food and water: Queanbeyan and Canberra
. Hospital: Collett St, Queanbeyan. (02) 6298 9211
• Emergency services: Call Triple Zero