Oh stop! Where is my mind?
I've been a fan of the PIXIES since around 1992. Yes, I was late discovering the band but made up for it with a stalker type love affair for them.
I've got into debates (usually fueled with alcohol) about which album was their best. It's taken me over 20 years to come to my decision on this. Now I can stand up and say, it would have to be Bossanova. This was their 3rd studio album released in 1990, when the magnificent 4AD was still magnificent.
But,… there was one song from their first full-length album, Surfer Rosa, that haunts me every time I hear it (I actually got chills and goosebumbs when this video started today). We posted recently about when two mediums (song and video) come together to create a knockout effect and this is what happened, with glorious effect, in David Finchers Fight Club, end scene.
A Big Influence
The Pixies were a massive part of my musical life and a big influence during my informative drumming years. I would say that almost every band I have ever been in, the Pixies played a part in the influence of sound, somewhere along the line and they will always pluck a certain chord in my heart.
There was and still is something about the music they create that's so different from everything else out there. It's obviously the sound but it's also the words, stories and context of the songs and the incredible imagery created by their long standing album artist Vaughan Oliver. During my art college years, Vaughan Oliver (and v23) were a big influence on my style and art direction.
So as you can see, the Pixies, once discovered, were a major influence on my life.
I enjoy the creativity of fan art and videos. Some are actually better than the originals. Due to the Pixies not having an official high end production video for this song, this one does the job quite well, me thinks.
Here's to goosebumps on a Friday…enjoy!  : )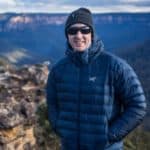 Born and grew up in Wales but now a fully fledged Aussie. A passionate mountain biker, hiker and general nature addict. I'm also a bit of a muso and enjoy a good craft beer every now and again (probably too often).
I hope what we do here at Tyres and Soles will inspire people to get out there and experience first hand, the natural wonders that surround them.
So, pump up those tyres, don your favourite boots. Grab a mate, a partner, a pet… and head out into nature. But tell us all about it when you get back.
Chief editor at Tyres and Soles.