With all the rain lately, a cyclist could be excused for spending less time on the trails, road or track and a little too much time in the armchair sampling fine ales from across the country.
At least, that's what I keep telling myself.  Add to the rain the fact that it has also been an unusually cold Spring and you get a Dark Ale season that is still going strong in my house.
This week I had the chance to get stuck into a pint of Double Cascadian Dark Ale from 4 Pines.
Packaging
Arriving in the customary 4 Pines pint bottle and with artwork recalling a crisp winter evening, the aesthetics transport you to the country, staring up at a starry sky as the cold rolls in.
Taste Notes
Pouring with a nice thick head, this dark ale had a red tinge around the edges and delivers a slight lemon aroma – not what you might expect from something this dark.
The taste is firm and rich, but certainly hides the fact that it is relatively heavy (definitely modelled on a dubbel) at 8%.  The malts have a caramel richness that take over from the chocolate tones as the beer warms up.
Summing Up
It's unlikely that this beer would be as popular as the regular 4 Pines Stout, but the brewery could do a lot worse than adding this to their regular production line.
Best enjoyed in a half pint glass, not too cold, and shared with a friend – preferably one you're happy to use for body heat as you stare at the vastness of the clear night sky.
Beer Man rating: 3.3 stars.
To find out more about this lovely little number, head on over to the 4 Pines website.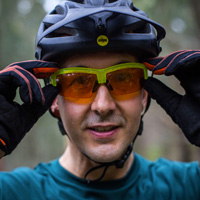 Latest posts by Jason Lorch
(see all)