For the last 20 years Ryan Leech has been accumulating and living an education that has culminated with his membership website which specializes in online mountain bike skill coaching for adults.
What started off with a few enthusiastic members has bloomed into a community of like-minded individuals who have a passion for integrating both mental and physical training aspects into their riding experience.
This timeline shows Ryan's journey and the unconventional education that has not only lead him to but also qualified him for, the online coaching system he has developed. "It helps to tell the story of why it makes sense that I'm doing this." From the first time he read about sports psychology through to his evolution in sports to his first sponsorship and eventually on to his education in yoga and meditation – along with many other stops along the way, including earning his Master Coach Certification in the methodology behind effective coaching, the graphic marks the important points in Ryan's career.
Self-Serve Environment
At each transition in Ryan's life, he's actively worked to incorporate his past knowledge and experiences rather than shed them. "At one point I tried to repress and push away the old me and that didn't work at all, it was disorienting." At the time Ryan was working quite successfully in business coaching and had made a big move towards that realm, but he says, "I love the mountain bike community and culture. I'm a mountain biker through and through; I missed the scene and I missed my friends. The community aspect is very important to me." And so Ryan endeavored to find a path that would allow him to use all of his qualification, passions, and skills – and that was what lead him to his online bike coaching website.
The membership website offers access to a variety of courses and videos; from mastering the wheelie to using breathing and meditation techniques to overcome fear. A self-driven, self-serve environment allows participants to pick and choose their areas of focus and to work on the steps provided at their own pace. "Someone may sign up to learn and a specific skill like manuals, balance, or cornering and end up discovering the physical fitness section which includes 46 different yoga sessions varying in length, focus, and ability – or the community, it's a really supportive and interactive community."
Life Experiences 
Part of the experience of the membership program is guided meditations. "That's the mental fitness." It's a combination of discussion topics – where the community shares their thoughts, perspectives, and support for each other, and actual practices including breath count, riding specific, movement, and body scan meditations.
Pulling from his own life experiences, Ryan discovered that "there's a need for a more integrated whole life approach. I've had a few people reach out about the mindfulness and meditation aspect in relation to challenges they are having either in work life balance or competitive and recreational riding – the nerves, the fear, the sleepless nights before events – there are practices that can be done around that just as much as you need to practice your physical skills. Meditation is a really important practice, it's not the only thing, but it's something that a lot of riders can benefit from, and my experience is lead me to find a way to introduce it and make it available for them."
Answering Some Questions
In producing the timeline Ryan hopes that it will help to answer some questions people may have. "It seems that most people who have heard about what I'm doing, don't really know what I'm doing. It's so much more than teaching a skill." The website incorporates a bike, body, mind aspect with curriculum broken into manageable steps. The program is designed for members to pick skills in an a la carte manner that appeals to them and there is no set time to complete each module. "It's not just a quick tutorial on a riding skill, I have developed step-by-step curriculums that ensure the acquisition of challenging skills more safely and with confidence."
"It's been a twenty-year education to get here and I couldn't have predicted that this is where I would end up, but when I look at the timeline and see all the steps I took – 20 years later it makes sense that I'm doing this."
www.ryanleech.com
Membership information.
Mentions: @RyanLeech / @dbaker / @norcobicycles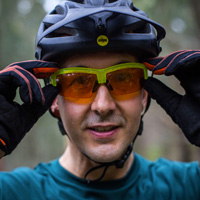 Latest posts by Jason Lorch
(see all)