Brickworks Brown Ale. American Brown Ale – 5.6% ABV
Brickworks Brown Ale. A product of local Canberra brewery, Pact Beer Co, this brown is a delicious treat after an evening ride.
With traditional brown characteristics, it keeps you interested with a firm but gentle bitterness. There is also a chocolate character that you would expect and which would make a lovely pairing for dessert. The real surprise with this beer is the subtle fruitiness that is almost just beyond reach.
The Ella hops are a beautiful pairing for dark malts in this beer and make it a real evening treat. I couldn't down ten of these, but I could give it a good shot and have a jolly good time getting there.
It's not cheap, and at around $25 a six pack it is competing in a price range that gives you access to many boutique and international beers. This means that Brickworks needs to stand out from the crowd to draw you in.
I think its point of difference is the hop usage, which sits this firmly in the category of American Brown Ale for me. I couldn't drink 10, I wouldn't keep paying the high price, but I think everyone should give it a go on one of the remaining cool evenings before daylight savings starts.
CONCLUSIONS:
Overall, I'd have to give it a 3.5 out of 5.
Best suited to the thirsty cyclist enjoying the last gasp of the winter evening's dying breath, while watching the silhouette of a leafless tree against the fading sky. As least, that's how I enjoyed my six. Safe rolling everybody!
To find out more head on over to their website or say hello on their Facebook page.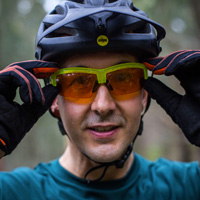 Latest posts by Jason Lorch
(see all)