Paris – Ammanford – Jarcrew
Ok, maybe not Paris but certainly Ammanford. I'm talking about a band that hailed from a small ex (thanks to Margaret Thatcher) mining town in the Welsh valleys.
In the early 2000's, I was playing in a band at a time when there seemed to be a fire in the belly of Wales and it was giving birth to an intense post-punk/hardcore noisenik whatever you want to call it genre. Yep, we couldn't classify it and neither could the so-called music industry people, but they certainly wanted a piece of it.
All I know is that there was an intense scene going down in South Wales and we found ourselves in the midst of it. I'm talking about bands like Mclusky, Sammo Hung, Midasuno to name but a few…
And then there was Jarcrew. I remember seeing these guys for the first time and thinking "f*&k me, how are we going to top that?"
Cutting Teeth
We found ourselves part of a close knit group of bands that often supported each other at venues such as the legendary TJ's, Le Pub in Newport and Clwb Ifor Bach in Cardiff. This is where we cut our teeth and I can tell you, they were long, razor sharp and eager to bite!
Melting Pots
It became a melting pot of creativity and spawned many other bands along the way, some of which are still going. Others mixed and merged members and became something else such as Mclusky into Future of the Left, The Martini Henry Rifles and Midasuno into Exit International. Although the latter have recently disbanded, but something else will no-doubt form from the ashes, such is the nature of the scene.
What I fondly remember of the scene back then was the lack of ego's (OK, there were a few).  As soon as bands finished we were all over each other, hyper-handhsakes and back slapping a plenty. When it was our turn to get up on stage the supporting band would be on the dancefloor dancing like their life depended on it. It was a party scene and it was going off.
A Jaded Ex Rocker
Although I wanted to dedicate this post to Jarcrew, it's turned into a general reminiscence of those intense years of musical discovery.
Perhaps I'm a little jaded due to my connection with Jarcrew and the scene, or it could be that music just seemed better and more alive back then? Who knows. Maybe I was better and more alive back then?  But what I do know is that Jarcrew were a great band and that is why I want to share them with you.
Turn it up to eleven and enjoy!
PS: Interestingly, Jarcrew and Mclusky did a reunion gig in 2014 to save the well loved venue, Le Pub. See the pictures of that night here.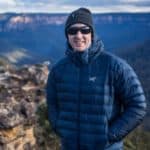 Born and grew up in Wales but now a fully fledged Aussie. A passionate mountain biker, hiker and general nature addict. I'm also a bit of a muso and enjoy a good craft beer every now and again (probably too often).
I hope what we do here at Tyres and Soles will inspire people to get out there and experience first hand, the natural wonders that surround them.
So, pump up those tyres, don your favourite boots. Grab a mate, a partner, a pet… and head out into nature. But tell us all about it when you get back.
Chief editor at Tyres and Soles.